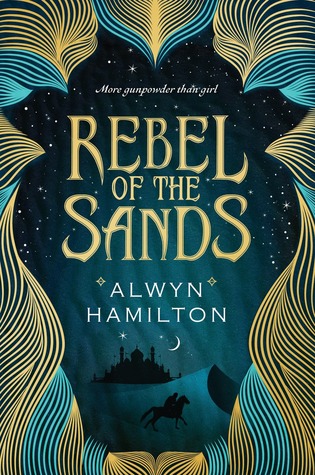 Publisher: Viking Books for Young Readers
Release Date: March 8th, 2016
Series: Rebel of the Sands, #1
Pages: 320
Format: eARC
Source: Publisher via First to Read
Genre(s): Fantasy
Synopsis from Goodreads:
Mortals rule the desert nation of Miraji, but mythical beasts still roam the wild and remote areas, and rumor has it that somewhere, djinn still perform their magic. For humans, it's an unforgiving place, especially if you're poor, orphaned, or female.

Amani Al'Hiza is all three. She's a gifted gunslinger with perfect aim, but she can't shoot her way out of Dustwalk, the back-country town where she's destined to wind up wed or dead.

Then she meets Jin, a rakish foreigner, in a shooting contest, and sees him as the perfect escape route. But though she's spent years dreaming of leaving Dustwalk, she never imagined she'd gallop away on mythical horse—or that it would take a foreign fugitive to show her the heart of the desert she thought she knew.

Rebel of the Sands reveals what happens when a dream deferred explodes—in the fires of rebellion, of romantic passion, and the all-consuming inferno of a girl finally, at long last, embracing her power.
Special thanks to Penguin First to Read for providing me with an advance copy of the book for review!
I'd been hearing so much about Rebel of the Sands, so when I saw a copy up for grabs from Penguin, I was sure to snatch it up. And I'm so glad that I did! Part middle eastern fantasy, part gunslinging western, this book was all magical badassery!
When I pick up a book set in the middle east, I almost immediately expect the writing to be amazingly rich. Something about the culture of the setting calls for a certain writing style that is detailed and equally as rich as the culture. That's exactly what Alwyn Hamilton gives us. Her writing was so atmospheric. I could picture each setting and character vividly in my head. I felt like I was there with Amani.
Amani herself was an incredible main character. She brought the badassery to the story. Learning her background and motive for being a sharpshooter made her a character you rooted for. I loved following her through the desert, and seeing where the story took her. Jin, the mysterious foreigner, was another characters I adored. His quick wit was oh so charming! There is a smidge of romance between these two, but it wasn't overwhelming. Quite the opposite, actually. It was slowly developed, building throughout the book. While the relationship is present, the story never strayed too long from Amani, the Sultan, and the rebellion.
The way that Alwyn Hamilton connected the dots from beginning, middle, to end of the story was very satisfying. The hints at rebellion, lost princes, and magic gave us just enough information to have a chance at putting the puzzle pieces together correctly. One thing that I wasn't completely expecting: magical "creatures" and abilities! I don't know why the thought never crossed my mind, but I did enjoy how that element was woven into the story, and eventually became a crucial part. That's really all I can confidently share without spoiling the excitement of the story!
All in all, Rebel of the Sands did not disappoint! It kept me hooked, turning page after page, and immersed in the desert world. Definitely a new fantasy favorite!