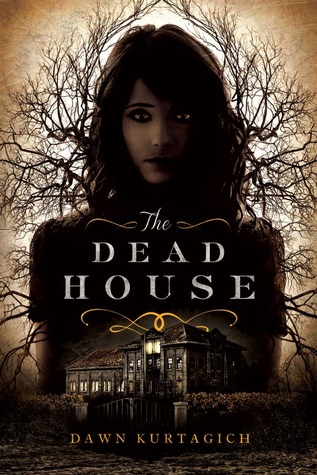 Publisher: Little, Brown Books for Young Readers
Release Date: September 15th, 2015
Series: N/A
Pages: 432
Format: ARC
Source: Publisher
Genre(s): Horror, Mystery, Thriller
Synopsis from Goodreads:
Debut author Dawn Kurtagich is dead on in this terrifying psychological thriller!

Over two decades have passed since the fire at Elmbridge High, an inferno that took the lives of three teenagers. Not much was known about the events leading up to the tragedy – only that one student, Carly Johnson, vanished without a trace…

…until a diary is found hidden in the ruins.

But the diary, badly scorched, does not belong to Carly Johnson. It belongs to Kaitlyn Johnson, a girl who shouldn't exist Who was Kaitlyn? Why did she come out only at night? What is her connection to Carly?

The case has been reopened. Police records are being reexamined: psychiatric reports, video footage, text messages, e-mails. And the diary.

The diary that paints a much more sinister version of events than was ever made publicly known.
Special thanks to Little, Brown BYR for providing me with an advance copy of the book for review!
*Note: The Dead House is a book that is told in a unique way, through the incorporation of photos, and other types of media. Because I was given an ARC, there were many images that were left out, possibly taking away from the story. Please take that into consideration when reading my review.
When I first got The Dead House in the mail and opened it up, I was really surprised. I hadn't known that this book would be designed and written the way it was. But when I finally opened to the first page to start reading, I found it to be an incredibly awesome way to format the book and tell this story. Throughout The Dead House you'll encounter newspaper articles, journal entries, video and audio transcription, post-it notes, images, and more. How cool is that? Add to that that almost everything is dated (which will help you a lot because the book skips around in time), and an unreliable narrator, and The Dead House will blow your mind!
The Dead House is a compilation of all the evidence that the police have found, put in chronological order. Think of it like a notebook filled with outside pages being stapled and taped in, etc. This was awesome because while you read the journal entries from Kaitlyn's point of view and get to know her, you also get to put the pieces of the puzzle together slowly when you read the transcriptions of the audio and video. It's a weird feeling, seeing two sides of the same story at once, without having a second narrator.
I'm not sure how to approach talking about the characters, but this is definitely a character-driven story. Kaitlyn is the driving force from the beginning, but I loved getting to see glimpses of Carly and their relationship. It made their story really believable (Hence, unreliable narrator, maybe? I still don't know. The ending tells you nothing, but I'll get to that later…). The side characters also had their own interesting things to them — Brett, John, and Ari, in particular. All of them get close to Kaitlyn, which makes their roles pretty interesting…
I wasn't expecting a psychological thriller out of The Dead House, based on the cover and the little that I knew about it, but I loved how it all worked out! It's a stretch to call it horror, I'd say it's more eerie and unnerving to think about kinds of people like Kaitlyn and Carly.
As for that ending, as I said before, don't expect answers and everything to be all cleaned up for you. That's the exact opposite of what happens! But I loved how it all worked into the story — it was like a real life police investigation that was never solved. And after you read it, you'll be like all those other conspiracy theorists trying to figure out your own theory about what happened!
All in all, The Dead House is a great choice if you're looking for a story told in an unconventional way, with amazing characters and an extremely interesting storyline. It's fast paced and exciting, and the ending will leave you speechless!