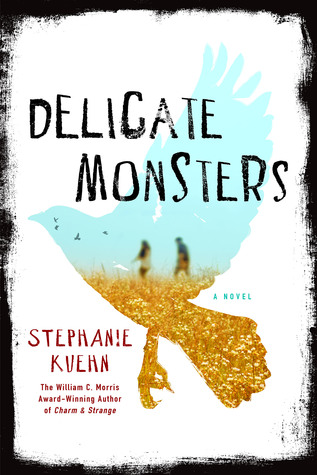 Publisher: St. Martin's Griffin
Release Date: June 9th, 2015
Series: N/A
Pages: 240
Format: Hardcover
Source: Publisher
Genre(s): Contemporary, Thriller
Synopsis from Goodreads:
From the Morris-Award winning author of Charm & Strange, comes a twisted and haunting tale about three teens uncovering dark secrets and even darker truths about themselves.

When nearly killing a classmate gets seventeen-year-old Sadie Su kicked out of her third boarding school in four years, she returns to her family's California vineyard estate. Here, she's meant to stay out of trouble. Here, she's meant to do a lot of things. But it's hard. She's bored. And when Sadie's bored, the only thing she likes is trouble.

Emerson Tate's a poor boy living in a rich town, with his widowed mother and strange, haunted little brother. All he wants his senior year is to play basketball and make something happen with the girl of his dreams. That's why Emerson's not happy Sadie's back. An old childhood friend, she knows his worst secrets. The things he longs to forget. The things she won't ever let him.

Haunted is a good word for fifteen-year-old Miles Tate. Miles can see the future, after all. And he knows his vision of tragic violence at his school will come true, because his visions always do. That's what he tells the new girl in town. The one who listens to him. The one who recognizes the darkness in his past.

But can Miles stop the violence? Or has the future already been written? Maybe tragedy is his destiny. Maybe it's all of theirs.
Special thanks to St. Martin's Griffin for providing me with a copy of the book to review!
The first thought that came to my mind when I closed Delicate Monsters after reading the final page was "What did I just read?!" This book's title should be found under the definition of psychological thriller in the dictionary, because, wow, I don't know what to think or how to feel. The initial synopsis for the book intrigued me, but when I read the book it wasn't what I expected at all. Not to say that I was disappointed, Delicate Monsters was just unexpected and not my typical read.
Delicate Monsters tells its story through three different unreliable narrators, all of which are extremely troubled and have dark and disturbed minds. This book overall reflects the characters personalities – it's disturbing and will drive you crazy. I hated each of these three main characters, didn't sympathize or empathize with them at all. They're not misled, they're not misunderstood, they're just cruel and evil.
The events that take place in the book are shocking, serious and no less dark than the characters that do them. Reading Delicate Monsters made me uncomfortable, as I don't normally pick up books dealing with topics like these. But even through the discomfort, there was something about the book that kept me turning pages. Maybe it was the sick fascination of being inside these twisted, horrible character's minds, maybe it was the want to know how this crazy story ends. But something about the book made me keep reading and turning page after page.
All in all, Delicate Monsters is an extremely fitting title for this book. The storyline is dark, and follows characters that are best handled with care, and certainly have monsters living deep within them. I wouldn't recommend this to everyone, as it is a book that will turn your brain.