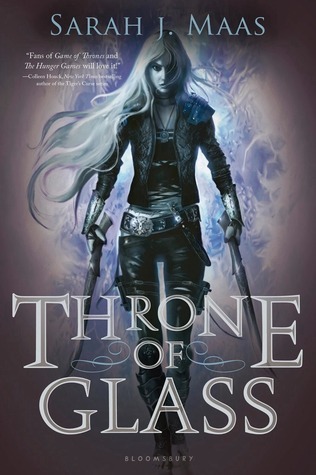 Publisher: Bloomsbury USA Childrens
Release Date: January 1st, 2012
Series: Throne of Glass, #1
Pages: 404
Format: Paperback
Source: Gifted
Genre(s): High Fantasy
Synopsis from Goodreads:
In a land without magic, where the king rules with an iron hand, an assassin is summoned to the castle. She comes not to kill the king, but to win her freedom. If she defeats twenty-three killers, thieves, and warriors in a competition, she is released from prison to serve as the king's champion. Her name is Celaena Sardothien.

The Crown Prince will provoke her. The Captain of the Guard will protect her. But something evil dwells in the castle of glass–and it's there to kill. When her competitors start dying one by one, Celaena's fight for freedom becomes a fight for survival, and a desperate quest to root out the evil before it destroys her world.
I FINALLY READ THIS BOOK! AND IT WAS AMAZING! AND BADASS!
I don't even know where to begin, because I can't pinpoint one thing that I didn't like in Throne of Glass. To everyone that has been recommending this book to me for years: you win. I am in love with this book, and I could. not. put. it. down. I know I sometimes say that a lot, but when I was reading Throne of Glass, I actually didn't put it down. My mom can confirm that, as she was constantly telling me to stop reading and clean my room.
I'll start with these awesome characters. Celaena is the epitome of kick-butt, won't take anyone's crap kind of girl. She's brave and strong, oh and AN ASSASSIN, but Sarah J. Maas doesn't write her to be some killing machine — she's so human and I loved that. You really feel for her, and you definitely root for her from page one. She's just one of those characters that you can't help but adore!
You really see the humanity within her when you see her relationships develop with the other characters in the book: Nehemia, Chaol, Dorian and Nox. Nehemia is another kick-butt character, but not in the physical way like Celaena. She's clever and quick with her words, and I loved the snarky girl that spoke her mind, much like Celaena did, too. The two of them together is quite a pair! Then there are the love interests. Yes, there is a love triangle, and YES I DON'T CARE. From the beginning I labelled myself as a Chaol girl because I mean, how could you not? He's a guard and he's handsome and he is skeptical of Celaena. But then Dorian enters the picture and he's arrogant but when you read the book I think you'll understand that Dorian definitely makes choosing one of these men very difficult. And both relationships are filled with something I love dearly: BANTER.
I'm not going to lie, the romance was one of my favorite parts of the book. But, the fantasy aspects and worldbuilding was also wonderful. Although we don't get too much of it until the very end, it's easy to see that Sarah J. Maas has created an intricate world that I am eager to revisit in the next book, Crown of Midnight!
Overall, Throne of Glass was just the fantasy I needed, living up to all of the hype and expectations surrounding it and the series. I cannot wait to continue reading about this amazing world and incredible characters!