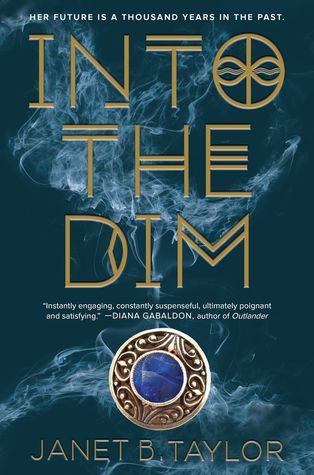 Publisher: HMH Books for Young Readers
Release Date: March 1st, 2016
Series: Into the Dim, #1
Pages: 432
Format: ARC
Source: Publisher
Genre(s): Historical Fiction/Fantasy
Synopsis from Goodreads:
When fragile, sixteen-year-old Hope Walton loses her mom to an earthquake overseas, her secluded world crumbles. Agreeing to spend the summer in Scotland, Hope discovers that her mother was more than a brilliant academic, but also a member of a secret society of time travelers. Trapped in the twelfth century in the age of Eleanor of Aquitaine, Hope has seventy-two hours to rescue her mother and get back to their own time. Along the way, her path collides with that of a mysterious boy who could be vital to her mission . . . or the key to Hope's undoing.

Addictive, romantic, and rich with historical detail, Into the Dim is an Outlander for teens.
Special thanks to HMH BYR for providing me with an advance copy of the book for review! All quotes are taken from the ARC and are subject to change with the final printing.
Into the Dim had been so hyped up for me, I was a bit nervous that it wasn't going to live up to that hype, and in turn my high expectations. But man was everyone singing it praises spot on! It had everything I could ever want in a book, and was written beautifully.
The very first line hooked me:
Everyone in town knew the coffin was empty.
-ARC, page 1
That's a pretty amazing first line! The beginning did start off a bit slow, but once it picked up, it didn't stop.
I've read very few books centered around the idea of time travel, so this was a refreshing and different storyline for me. There's lots of interesting theories about ley lines, ancient historical places with strong currents, and other scienc-y stuff that has to do with time travel in the book. Also talk of famous inventors and scientists that all make the possibility of time travel seem convincing and real when you read it. I also loved the way that Janet B. Taylor weaved all the history into the story. The scenes set in the past were my favorites by far. The descriptions were vivid and rich, bringing you right into the past with the characters. Some of the characters in the book were real historical figures, too. I always find them super interesting, and end up researching tons about them after the fact. That happened with me and Eleanor of Aquitaine in this book. I hadn't learned much about 12th century England prior to this, and I always love it when I can widen my knowledge of history! I also really liked seeing Hope's reaction to actually meeting the people she'd been studying for so many years. It's kind of twisty thinking about all of the rules of time, time travel and paradoxes. Hope actually poses the question: Did history play out the way that it did because I went back in time? Or would it have been the same anyway? It's quite an interesting theory to ponder…
The characters were also a bunch of fun! Hope was a relatable character, although I haven't been through many of the same things. There was just something about her that made you like her, feel for her, and root for her to succeed. Her actions, and reactions, to the crazy situations she was thrown into made the story seem that much more real. Phoebe and Collum were two others that I absolutely loved! Phoebe was so bubbly and fun, the polar opposite of her brother Collum who was strict, serious, and loyal. The friendship that formed between Phoebe and Hope was sweet, and even Hope's relationship with Collum was a banter-y, but adorable one. I also loved the historical characters: sweet little Rachel, wise Sister Hectane, and strong Queen Eleanor of Aquitaine. There's also Bran, who I quite liked. He's cocky and confident, but with a brooding, dark side. What's not to love?! The one character that I didn't like was, unfortunately, Sarah, Hope's mother. Her actions and conversations with Hope didn't seem natural. I mean, come on Sarah, your daughter just travelled through time to save you and you don't really help her out that much… But we don't get to see too much of her in this book, so maybe we'll get some more mother/daughter love in the next book.
And yes of course, there's romance. I hate to say it, but I wasn't a huge fan. The introduction is hinted at very early on, and it's a common thought in Hope's head ever after that. I really, really loved how Hope actually rationalizes with herself when she catches herself thinking about a boy instead of her mom after learning about the whole time travel thing. It's not often you see that in YA. The romance did grow on me throughout the book, though. The more information you learn about Hope's past, the more it makes sense. I just felt like it developed a bit too fast to seem realistic. She was also a little naive at points, when concerning said love interest. This was the only thing that kept me from giving Into the Dim a full five star rating! But here's the real reason I couldn't completely jump on board with the whole romance: I ship Hope with someone else! There will be minor spoilers ahead, highlight to read! I shipped Hope with Collum so hard!! And I thought that maybe there would be a love triangle because I caught some subtle hints that Collum was developing feelings for Hope. But, alas, not in the first book at least. Maybe it was more a brotherly protection vibe I was getting? But the way he is so loyal in protecting her, and warning her about falling for Bran… I don't know, maybe it was just me. Spoilers are over now!
Romance aside, Into the Dim is a fantastic read. It's filled with excitement, tons of detail, and a story like none other! Wonderfully written, no small detail is left out. It's clear tons of research went into crafting this incredible and magical story.
I cannot wait to read the second book! The ending provided some closure, but there is a lot more I want to learn about in this world!