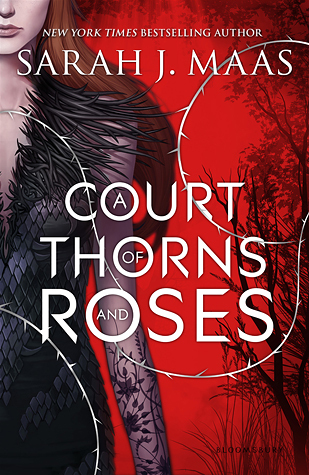 Publisher: Bloomsbury Children's
Release Date: May 5th, 2015
Series: A Court of Thorns and Roses, #1
Pages: 416
Format: Hardcover
Source: Bought
Genre(s): Fairy Tale Retelling, Fantasy, Romance
Synopsis from Goodreads:
A thrilling, seductive new series from New York Times bestselling author Sarah J. Maas, blending Beauty and the Beast with faerie lore.

When nineteen-year-old huntress Feyre kills a wolf in the woods, a beast-like creature arrives to demand retribution for it. Dragged to a treacherous magical land she only knows about from legends, Feyre discovers that her captor is not an animal, but Tamlin—one of the lethal, immortal faeries who once ruled their world.

As she dwells on his estate, her feelings for Tamlin transform from icy hostility into a fiery passion that burns through every lie and warning she's been told about the beautiful, dangerous world of the Fae. But an ancient, wicked shadow grows over the faerie lands, and Feyre must find a way to stop it… or doom Tamlin—and his world—forever.

Perfect for fans of Kristin Cashore and George R. R. Martin, this first book in a sexy and action-packed new series is impossible to put down!
WHY DIDN'T I READ THIS BOOK SOONER, PEOPLE?!? A Court of Thorns and Roses totally lived up to my expectations and the hype surrounding it. After reading and loving Sarah's first two Throne of Glass books (Throne of Glass & Crown of Midnight), I was SO ready for more by her. I do have Heir of Fire sitting on my shelf, but something about ACOTAR was calling to me. Plus, pretty much everyone I trust when it comes to reviewing said I'd love it.
Little did I know that I wouldn't be able to focus on pretty much ANYTHING else while I was in the middle of it. For a fairly large book (okay, large for the average reader), I was able to finish it in about a day. I basically became a speed-reader, because I just COULDN'T PUT IT DOWN!
First of all, like Celaena, Feyre is SUCH AN AWESOME MC. Super badass. From the very first page we get to see her hunting and being awesome. She's confident with herself. I also liked how prior to the main storyline, she was in a simply physical, I'll say, relationship with Isaac. In YA we get a lot of female MC's who make sex a really climactic point in the storyline. Whereas with Feyre, it happens, and it's not a big deal, which was refreshing.
Of course we can't forget the world and FANTASY! I loved the conflict between the Fae and the mortals. But I also loved how there was an aspect of inner turmoil within Prythian and between Hybern. I like it when fantasy has bits of political intrigue within their rulers, too. The Fae creatures themselves were awesome. I can't speak to them all (because there's a lot — this world has lots of depth), but I will say their distinct abilities are COOL. The other creatures are really interesting, too. I liked the idea of their being less-human-like Fae that are dangerous to the other Fae, as well. Does that make sense? It gets hard to talk about specific aspects without spoiling…
There is romance, too. I know that it's been kind of controversial regarding the idea that it's an unhealthy relationship between Tamlin and Feyre. But, I didn't really get that feeling myself. I can see how others would feel like she was being held against her will, and that at one point was almost taken advantage of. But I think Maas wrote their relationship and story well enough to let the reader know that Tamlin wasn't doing anything bad when it came to keeping Feyre captive. He tells her multiple times she can leave him, just not the Fae Realm. And regarding the hallway scene: he wasn't himself then, and was overtaken by magic, so…
I quite liked Feyre and Tamlin's relationship. Especially when you learn more about how it came to be, I found it really sweet, actually. There are a number of steamy scenes, too, if that's you're thing. But, while I loved Tamlin, I still felt like there was a little something missing from him. He didn't seem completely developed. He was a little dry when he wasn't expressing his great affections for Feyre or filled with passion!
There's tons of action, too. Those were some of my absolute favorite scenes. BECAUSE UM, MORE FEYRE BADASSERY!!
I liked the ending a lot, and had it not been for Feyre's final conversation with Rhys (more on him later), I would have called it pretty finite. BUT, SHE HAS A MOMENT WITH HIM THAT MADE ME GO WHATTTT!?!??!?!? And basically, now I need A Court of Mist and Fury ASAP. I can definitely see a setup for a possible love triangle in the next book, which I'm unsure whether I want or not.
I LOVE RHYS. BUT I LOVE FEYRE AND TAMLIN AS A COUPLE. Rhys is the sexy bad boy that I love, but I just wish there had been MORE of him in the book because then I'd definitely be all: GREEN LIGHT ON THE LOVE TRIANGLE. And shipping Feyre and Rhys all the way to the moon. When they did have scenes together, the sexual tension was on OVERLOAD. But, alas he was not very prominent until the last bit of the book. So I think I will continue to ship Feyre and Tamlin, and just keep Rhys for myself. Sounds good to me!
So all in all, I REALLY liked ACOTAR. About just as much as I like the Throne of Glass series so far. I did have my minor problems with Tamlin being sort of lacking in personality when he wasn't making out with Feyre, but that didn't affect my love of the book too much, CLEARLY. I STILL LOVE TAMLIN TOO. ❤