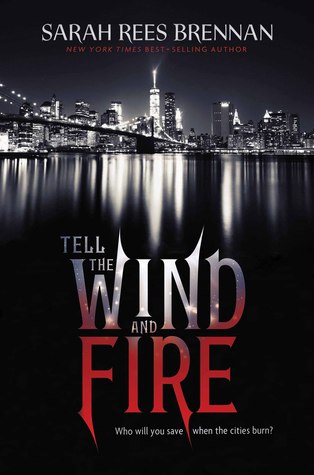 Publisher: Clarion Books
Release Date: April 5th, 2016
Series: N/A
Pages: 368
Format: eARC
Source: Publisher via NetGalley
Genre(s): Retelling, Urban Fantasy
Synopsis from Goodreads:
In a city divided between opulent luxury in the Light and fierce privations in the Dark, a determined young woman survives by guarding her secrets.

Lucie Manette was born in the Dark half of the city, but careful manipulations won her a home in the Light, celebrity status, and a rich, loving boyfriend. Now she just wants to keep her head down, but her boyfriend has a dark secret of his own—one involving an apparent stranger who is destitute and despised.

Lucie alone knows of the deadly connection the young men share, and even as the knowledge leads her to make a grave mistake, she can trust no one with the truth.

Blood and secrets alike spill out when revolution erupts. With both halves of the city burning, and mercy nowhere to be found, can Lucie save either boy—or herself?

Celebrated author Sarah Rees Brennan tells a magical tale of romance and revolution, love and loss.
Special thanks to Clarion Books and NetGalley for providing me with an advance copy of the book for review!
I put off reading this book for a looooooong time (longer than I really should have) because for some reason, most of my Goodreads friends' reviews of this book were very low. I'm talking one-two stars. This made me really nervous, because, I would normally trust these people! So I finally worked up the nerve to read this book for three reasons: (1) The synopsis sounded really cool, and Sarah Rees Brennan is awesome, (2) I was going to be meeting Sarah like, the next day, and (3) it was a retelling of A Tale of Two Cities by Charles Dickens, which I haven't read, and therefore felt that maybe some low rating were due to retelling issues which wouldn't affect me. Turns out, I completely and wholeheartedly disagree with those reviews. Therefore, the moral of the story is, READ THE DARN BOOK EVEN IF IT'S GETTING BAD REVIEWS. At least try, because hopefully like my case, you'll end up loving it!
Well, let me just say that I wish I had read this book sooner, people. It turned me into an emotional, sobbing, wreck. SARAH REES BRENNAN YOU ARE VERY CRUEL. But that is all thanks to the ending. I'll start with the beginning.
I loved how Sarah weaved magic into the storyline. Yes, some parts were a little confusing (about how the Light and Dark magicians need each other, the actual workings of the magic, etc.) but I dealt with that. But my favorite thing was the doppelgangers! The idea that they are created when a magician is trying to save someone on the brink of death was chilling. The fact that they are basically society's rejects added so much emotion, especially when we get introduced to Carwyn (*HEART EYES ALL OVER*). There is all this stigma in both the Light and Dark cities about being a doppelganger, and them not being considered real people, or believed to not have souls, which was so interesting.
That leads me to talk characters. Lucie and Ethan were pretty "meh" characters to me. Lucie was a typical symbol of rebellion, Ethan was the "golden boy," but I loved me some Carwyn… While Lucie and Ethan were pretty boring, Carwyn was completely the opposite. He was dark, brooding, definitely the "bad boy," but he had lots of depth due to the fact that he was a doppelganger. He was also morally ambiguous, which makes for awesome characters. I really came to root for him to have a happy ending, even over the others, because of the things he reveals about himself, and his actions throughout.
There's a romance between Lucie and Ethan (not a spoiler, don't worry), which I found to be about as bland as the characters. It got a little better when we learned the history of how the two got together, but it was nothing special to me. I found Lucie and Carwyn's almost relationship to be much more interesting. If you've read the book already, CHAPTER 18 AH!!! It hit me right in the feels. The complexity and the forbidden wrongness of Lucie helping a doppelganger made it much more exciting. And my oh my the sexual tension was coming off of Carwyn in droves!
The ending completely destroyed me, just as I knew it would, but was hoping it wouldn't. Sarah wasn't afraid to hit us very very hard in the heart. This will be one that you'll want to emotionally prepare for.
While I was a big fan of the story, the writing was also wonderful. The dialogue she created for and between the characters *cough* especially Carwyn *cough* was really great, and of course, emotional.
All in all, Tell the Wind and Fire was a great story! But the highlight for me was Carwyn (if you couldn't tell he's totally my current book boyfriend), and the complexity his character brought to the story, and the world. If you're a fan of sexy bad boys and urban fantasy, this is the book for you!