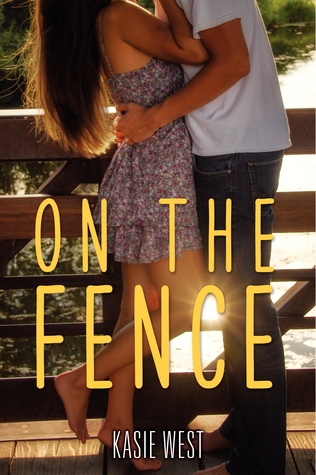 Publisher: HarperTeen
Release Date: July 1, 2014
Pages: 320
Format: Paperback
Source: Bought
Series: N/A
Genre(s): Contemporary Romance
Synopsis from Goodreads:
She's a tomboy. He's the boy next door…

Charlie Reynolds can outrun, outscore, and outwit every boy she knows. But when it comes to being a girl, Charlie doesn't know the first thing about anything. So when she starts working at a chichi boutique to pay off a speeding ticket, she finds herself in a strange new world. To cope with the stress of her new reality, Charlie takes to spending nights chatting with her neighbor Braden through the fence between their yards. As she grows to depend on their nightly Fence Chats, she realizes she's got a bigger problem than speeding tickets-she's falling for Braden. She knows what it means to go for the win, but if spilling her secret means losing him for good, the stakes just got too high.

Fun, original, and endearing, On the Fence is a romantic comedy about finding yourself and finding love where you least expect.
For me there was no question about what I was picking up at the bookstore on July 1st: On the Fence. I had been waiting for this day ever since I finished The Distance Between Us last summer, and had been reading other blogger's reviews who had raved about On the Fence. Originally I was planning to read this on my vacation, but my excitement won out and I devoured this one as soon as I brought it home!
On the Fence was everything I could have possibly wished for, and I loved every page of it. From the characters to the romance there was not one thing that I didn't like.
Kasie West's new cast of characters were funny, clever, but most importantly real. It was clear there were strong family bonds between Charlie, Jerome, Gage, Nathan and Braden. They were goofy, witty, and fun, but had their problems too. The struggles that Charlie had about acting "like a girl" and having to grow up without a mom were written so realistically and added more to the main story of the romance.
I absolutely loved Charlie and Braden's relationship. Talk about ADORABLE! No insta-love, just a relationship built off of twelve years of friendship, which I think made for a perfect romance. Before and after they realized their feelings neither of them changed for the other. Charlie was still one of the boys. I think that was one great message that was shown through the book: you shouldn't change for someone else. You should always be YOU.
All in all, One the Fence was such a cute, adorable, and funny read. It was everything I look for in a light, fun, and happy contemporary. It had me smiling throughout the entire book. Even better than The Distance Between Us, Kasie West's On the Fence is sure to delight all contemporary fans!