Top Ten Tuesday is a weekly meme hosted by The Broke and The Bookish.
---
The way I gush about some of the contemporary books that I've read while blogging here you probably wouldn't believe that I'm a "wary" contemporary reader. I used to hate it, but here are some of the books that I read that changed my mind.
The Serious Stuff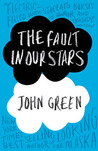 Stolen by Lucy Christopher [REVIEW] – About a girl who is kidnapped but grows conflicting feelings for her captor. Is sure to bring on the feels and get your mind going about these twisty emotions.
We Are the Goldens by Dana Reinhardt [REVIEW] – Siblings and inappropriate relationships…
The Fault in Our Stars by John Green – The first serious contemporary book I read, and you've probably read it too.
All the Truth That's In Me by Julie Berry – Could be shelved in various different genres, but contemporary is definitely one of them. A beautiful and moving book that's a perfect gateway into the "serious" contemporary genre.
The Cutes-y Romance

 Fangirl by Rainbow Rowell – Every nerdy book-lover and writer will relate to Cath and fall in love right along with her!
The Summer I Turned Pretty by Jenny Han – If you've been following this blog for even a little bit you'll know my love of Jenny Han's books. This is the first contemporary book I've ever read and it will definitely turn you into a lover of this genre.
The Statistical Probability of Love at First Sight by Jennifer E. Smith – I think of Jennifer E. Smith as the queen of cliché. Don't go into her books expecting deep contemporaries. They're the perfect adorable, cute romances that will send you on a little trip, too.
On the Fence by Kasie West [REVIEW] – Although I haven't read any of Kasie West's parallel world books, I ADORE her contemporaries. If you've read her other books than you should definitely check out On the Fence and her other contemp book The Distance Between Us. SO. CUTE.
Fun, Fun, Fun
Smart Girls Get What They Want by Sarah Strohmeyer – There's an adorable romance, but there's also topics like breaking through the stereotype of being a "smart" girl.
The Innocents by Lili Peloquin & The Lying Game by Sara Shepard – Both are also mysteries, so if you're worried about diving all the way in and like a little bit of thrilling and puzzling fun, these are your books!
What books you suggest to wary contemporary genre readers?