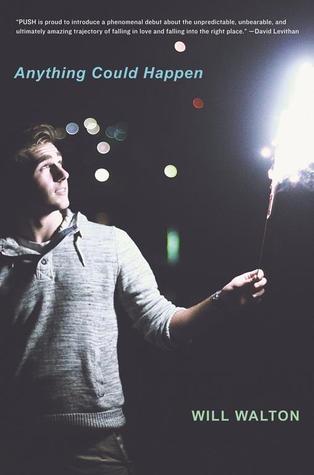 Publisher: Push
Release Date: May 26th, 2015
Series: N/A
Pages: 288
Format: ARC
Source: Publisher
Genre(s): Contemporary, LGBT
Synopsis from Goodreads:
When you're in love with the wrong person for the right reasons, anything could happen.

Tretch lives in a very small town where everybody's in everybody else's business. Which makes it hard for him to be in love with his straight best friend. For his part, Matt is completely oblivious to the way Tretch feels – and Tretch can't tell whether that makes it better or worse.

The problem with living a lie is that the lie can slowly become your life. For Tretch, the problem isn't just with Matt. His family has no idea who he really is and what he's really thinking. The girl at the local bookstore has no clue how off-base her crush on him is. And the guy at school who's a thorn in Tretch's side doesn't realize how close to the truth he's hitting.

Tretch has spent a lot of time dancing alone in his room, but now he's got to step outside his comfort zone and into the wider world. Because like love, a true self can rarely be contained.
Special thanks to Push (Scholastic) for providing me with an advance copy of this book for review!
I'm not going to lie, when I got this book in the mail, I wasn't really sure if I was going to read it. But I was in the mood for a contemporary, so I figured I'd give Anything Could Happen a shot. I'm really happy that I did.
As I've mentioned before, I don't read much LGBT, but I am trying to diversify my reading! While the main character's sexuality is definitely a part of the story, I found Anything Could Happen to be more of a coming of age, finding yourself, and self-acceptance book, but minus all of the cliches.
I really liked Tretch, the main character, not only because he loves Taylor Swift, Ellie Goulding, AND books, but he was really relatable for being a gay boy character, and me being a straight girl. Normally when I would compare the two, I probably wouldn't think at first that we would be going through the same kind of struggles, which is totally wrong. I'm glad that the author didn't focus on Tretch's struggle with his sexuality like many LGBT books do, but on his life, friendships, family, etc. As I mentioned before, this made him really relatable. Ah, young, unrequited love…
Anything Could Happen somehow managed to be cute, yet so real, heartbreaking, yet bring a smile to my face by the end. It's a hopeful book, with great characters, and a great story. I would definitely recommend this one to anyone, whether you're new to LGBT or not. It's more than LGBT and sexulality, it's about being human and discovering who you are.