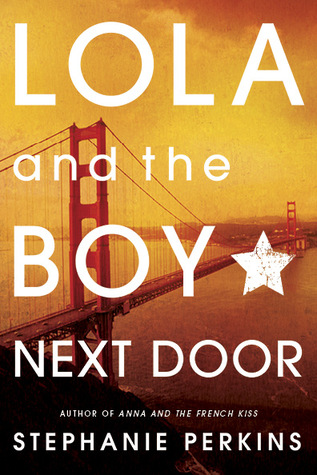 Publisher: Speak
Release Date: September 28th, 2011
Pages: 338
Format: Paperback
Source: Bought
Series: Anna and the French Kiss, #2
Genre(s): Contemporary Romance
Synopsis from Goodreads:
Lola Nolan is a budding costume designer, and for her, the more outrageous, sparkly, and fun the outfit, the better. And everything is pretty perfect in her life (right down to her hot rocker boyfriend) until the Bell twins, Calliope and Cricket, return to the negihborhood. When Cricket, a gifted inventor, steps out from his twin sister's shadow and back into Lola's life, she must finally reconcile a lifetime of feelings for the boy next door.
I can't believe it has taken me this long to read Lola and the Boy Next Door! I've seriously been missing out on the adorableness that is Lola and Cricket (and Anna and St. Clair) since I finished reading Anna and the French Kiss too long ago.
Now, if you've never heard of these books before, don't get turned off by the cheesey titles. And if you have and love these books, then you already understand my obsession. Beware, major fangirling about to ensue.
I want to mention first that I was not expecting there to be SO MUCH ANNA AND ST. CLAIR. THEY'RE ACTUAL SIDE CHARACTERS IN THIS BOOK! What???? I was NOT expecting that, and I LOVED it (hence my use of ALL CAPS).
But back to Lola and Cricket, this book's main lovebirds. Lola was perfect for her quirky and spunky style. Cricket was perfect because he was that awkward friend from childhood that lived next door. The story was just perfect because it was SO STINKING CUTE.
Okay, this isn't much of a review, but I'm sorry, I can't (virtually) talk about this book without (virtually) squealing over the amazing cuteness that is this book. I just can't. You probably can't either if you've read this book, too.
So, why only 4.5 out of 5? Because although this book had Anna and St. Clair, it didn't have that same thing (because I don't know what this thing is to describe it), that their love story did. Naturally I would compare this to Anna, so therefore I took off half.
But if you couldn't tell from the previous parts of this fangirling excuse of a review, I loved Lola and the Boy Next Door and if you like contemporary romance, you HAVE to read this book! ❤