---
***I'm revamping Week in Review, keeping it simple with 3 sections!***
In Life
Well, I wrote one post for all of last week, needless to say I was busy with everything BUT blogging, unfortunately. School is, well, school and the workload is way more than I could have ever expected, but I'm pushing through because I don't really have a choice! Whenever I have a free moment I wish I could say I spend it picking up a book but I am so tired by the time I finish school and homework that I only feel like watching TV or sleeping, so basically doing brainless activity, which of course reading a book is NOT.
So what TV shows am I watching during my brainless after school hours instead of reading like I really want to, you ask? Well, a bunch.
The Blacklist – This show is just so well-written and I love every actor that's in it. The one "crime" show that I do watch, and I'm obsessed with it. James Spader is a genius. I can't even explain my love for Reddington!
Red Band Society – This show is so sweet and not depressing at all, despite the overall theme of kids living in a hospital. I'm a fan, and these new up and coming actors are awesome!
How to Get Away With Murder – I'm not gonna lie, I watch this show for Alfie Enoch (Dean Thomas from Harry Potter), but the show really is fantastic and mind-bending. Definitely recommend you check it out if you're into that kind of thing.
Once Upon A Time – I'm sad, guys. The premiere episode was really lackluster for me. Probably because I (still) haven't seen Disney's Frozen. But I'm just not loving this show as much as I did last season… 😦
That's my lame excuse for lack of reading, and in turn, lack of blog posts for last week. I feel like I keep making excuses but I REFUSE to stop blogging even through all of the business. I love books and blogging too much to so! 😉
---
In Books
I am so excited to show you guys all the wonderful and amazing books that I got in these past two weeks. EEEE!!!
Rush by Eve Silver (Thanks to YA Bound Book Tours and Eve Silver!)
The Walls Around Us by Nova Ren Suma (Thanks to Algonquin YR!)
Throne of Glass by Sarah J. Maas (Thanks, Grandma!)
Unforgotten by Jessica Brody (Thanks, Grandma!)
In A Handful of Dust by Mindy McGinnis (Bought)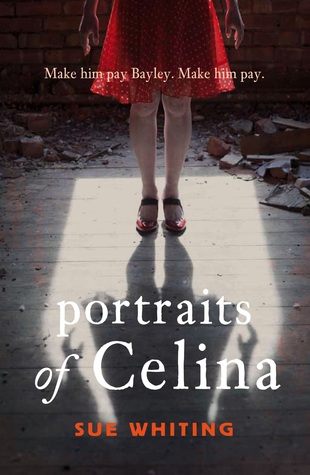 Portraits of Celina by Sue Whiting (Thanks to Switch Press and NetGalley)
I cannot express my excitement for all of these books, especially combined! Rush has been on my TBR forever and I haven't read a sci-fi book in the longest time, so I'm definitely planning on picking that one up soon. The Walls Around Us comes out in March of next year, so that one is a little further down on my TBR pile but I CAN'T wait to read it. I think I may end up picking it up sooner than anticipated. I've been meaning to buy Throne of Glass and Unforgotten for the longest time so thanks Grandma for the belated birthday gift! And of course I just HAD to purchase In A Handful of Dust the week that it came out because I am still obsessed with Drop, since I read it way back in August 2013! Last but not least I had to request an eARC of Portraits of Celina because it looks really creepy and awesome to read sometime this month with Halloween approaching faster than I want to even think about!
~
I'm currently reading Love and Other Unknown Variables by Shannon Lee Alexander, and while I am loving the frequent Harry Potter series references, I'm not a huge fan of the main character Charlie (yet). I'm only a little ways in, though, so we shall see how I turn out liking it in my review that will be up next week!
---
In Blogging
I'm finally getting caught up on reading a bunch of other blog posts, as well as commenting, etc. So here are a few of the posts that stood out to me while scrolling through my Bloglovin' feed.
 Anya @ On Starships and Dragonwings discussed how to get her to comment on your blog.
Asma @ IceyBooks shared her bookish pet peeves through a gif post!
Laura @ Laura Plus Books talks about categories in blog post titles.
Rachel @ Paper Cuts discusses email subscriptions to blogs.
~
As for my blog this  past week, it's been pretty silent.
On Friday I posted my fangirl-y, not-so-review of Lola and the Boy Next Door by Stephanie Perkins.
I also want to acknowledge everyone that has nominated me for various blog awards over the past couple of months. Thank you all so, so much! It really means the world to me and warms my heart to know that people like what I post. If I had endless amounts of time I would write a post in response to each and every one of you lovely bloggers that have nominated me, but as I've mentioned numerous times, my life is crazy right now. But I want you all to know how much it means to me to be nominated by such wonderful people as yourselves. Thank you all so much! ❤ xx
---