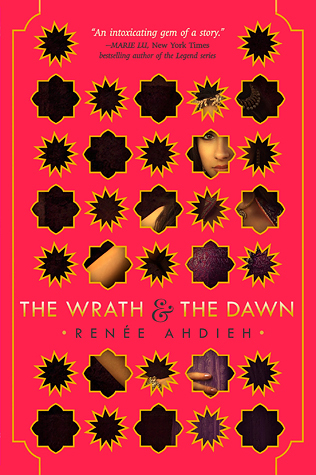 Publisher: Putnam Juvenile
Release Date: May 12th, 2015
Series: The Wrath and the Dawn, #1
Pages: 388
Format: eARC
Source: Publisher via First to Read
Genre(s): Fantasy, Retelling, Romance
Synopsis from Goodreads:
A sumptuous and epically told love story inspired by A Thousand and One Nights

Every dawn brings horror to a different family in a land ruled by a killer. Khalid, the eighteen-year-old Caliph of Khorasan, takes a new bride each night only to have her executed at sunrise. So it is a suspicious surprise when sixteen-year-old Shahrzad volunteers to marry Khalid. But she does so with a clever plan to stay alive and exact revenge on the Caliph for the murder of her best friend and countless other girls. Shazi's wit and will, indeed, get her through to the dawn that no others have seen, but with a catch . . . she's falling in love with the very boy who killed her dearest friend.

She discovers that the murderous boy-king is not all that he seems and neither are the deaths of so many girls. Shazi is determined to uncover the reason for the murders and to break the cycle once and for all.
Special thanks to Penguin Random House First to Read for providing me with an advance copy of this book for review!
From the moment I read that synopsis I knew this was going to be a book that I would love. And I was right. The Wrath and the Dawn was beautiful, consuming, and rich with its story, writing, world, characters, and romance. I think the best way for me to write this review is to break it down into those five categories mentioned above, as to not completely just write and incoherent fangirly review (although that would be quite entertaining and much easier on my part). This is also most likely going to be quite long because I want to highlight everything amazing about this book — and there are a LOT. Short version: I adored this book and you should rush out and read it ASAP, because it will surpass your highest expectations.
The story is a retelling of the A Thousand and One Nights. I hadn't any previous knowledge of the story before reading this book other than knowing that it's a middle-eastern tale. Therefore, I can't really comment on how the author reimagined the original into The Wrath and the Dawn, other than telling you that THIS story is incredible!! There is a very rich feeling to the book, as I mentioned before, but somehow the story remained fast paced and kept me turning pages. I spent one day on my couch, committed to finishing the book because it was THAT good.
Renée Ahdieh's writing is absolutely beautiful, and I think it really helped to create the vibe for the entire book. The descriptions were amazing, but without being too drawn-out. The word "sumptuous" was used in the description, and I think it fits this book perfectly, along with luxurious and lavish.
With great writing comes great world-building. I found the world in The Wrath and the Dawn to be extremely interesting, and I loved how as the book switched to different characters for some chapters, we got to explore. Throughout the book there are bits of fantasy and magic exposed, and I am really eager to learn more about those powers.
This book is definitely a character-driven one. The relationships between them were very much so that of political intrigue. We get to meet those at the Caliph's palace, those from other lands, and those from Shazi, the main character's past. One of my favorite characters was Jalal. He was flirty and fun, and definitely made me smile with his banter between him and pretty much every other character! There was only one character that I found had a presence that was annoying — Tariq. He's Shazi's lover from back home, and I just didn't find his obsession to be appealing. As for Shazi herself, I loved her. She's such an awesome main character who was fierce, fearless, and oh so smart. Khalid has been added to my ever-growing list of book boyfriends, because, well read the book for yourself and you'll see the swoony appeal! Okay I'll tease — he opens up to Shazi and we learn the kind of man he really is and you can't help but fall in love with him. Plus he is hot.
Speaking of hot, can I talk about the romance between Shazi and Khalid? It is STEAMY. There's angst. And more angst. And I love angst, so I was totally eating this up. I am a sucker for enemies to lovers storylines, and this is about as good as it gets! I fell in love with Khalid and Shazi's romance…
Have I rambled on about The Wrath and the Dawn long enough to make you want to read it? Well, you totally should if fantasy, romance, and politics is your thing. While I was reading I kept finding parallels to the writing, characters and style of The Winner's Curse/The Winner's Crime by Marie Rutkoski (which I ADORE). If you're a fan of those, definitely give this one a go! I also want to note that I loved the Middle Eastern setting and characters — yay for diversity! I haven't read many books in that region of the world, but I really want to now.
So overall, I LOVED LOVED LOVED The Wrath and the Dawn, and I can't wait for the next book. Could it magically appear on my shelf now?