I'll admit: I'm becoming a big contemporary reader, and lover. I never thought I'd say that, but it's true! And when I heard about In Real Life, I knew it would be right up my alley. First of all it's a friends to something more romance, and who doesn't love that? Second of all, THEY'VE NEVER MET BEFORE IN REAL LIFE! WHAT?! Craziness. An automatic Emily must-read. And I did. And I really, really liked it. Like a lot.
---
Review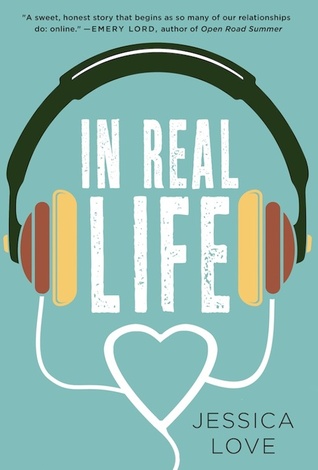 Publisher: Thomas Dunne Books
Release Date: March 1st, 2016
Series: N/A
Pages: 240
Format: eARC
Source: Publisher via NetGalley (Blog Tour)
Genre(s): Contemporary Romance
Synopsis from Goodreads:
Hannah Cho and Nick Cooper have been best friends since 8th grade. They talk for hours on the phone, regularly shower each other with presents, and know everything there is to know about one another.

There's just one problem: Hannah and Nick have never actually met.

Hannah has spent her entire life doing what she's supposed to, but when her senior year spring break plans get ruined by a rule-breaker, she decides to break a rule or two herself. She impulsively decides to road trip to Vegas, her older sister and BFF in tow, to surprise Nick and finally declare her more-than-friend feelings for him.

Hannah's romantic gesture backfires when she gets to Vegas and meets Nick's girlfriend, whom he failed to mention. And it turns out his relationship status isn't the only thing he's been lying to her about. Hannah knows the real Nick can't be that different from the online Nick she knows and loves, but now she only has one night in Sin City to figure out what her feelings for Nick really are, all while discovering how life can change when you break the rules every now and then.
Special thanks to Thomas Dunne Books and NetGalley for providing me with an advance copy of the book for review, and for the opportunity to be a part of the blog tour!
I flew through In Real Life so fast, I read it in two hours. I stayed up late reading, and if you know me at all, you know that I don't stay up late. Ever. Jessica Love, you should be very proud that your book made me stay up late, and become an emotional mess. Okay, well maybe the emotional mess part is because I was tired, but either way, it happened. I just couldn't stop reading this adorable book. I had to know what would happen next! How would it all turn out for Hannah and Nick?
Let me get this out there early on: friends to lovers romances are my all-time favorite romances that could happen, especially for a book that takes place over a short amount of time. We already know that they have a solid, and most likely long, relationship. No insta-love to worry about, just the friend zone. But instead of In Real Life just being the typical friends to more romance, she adds in the idea that they've never met in person before. This is so relevant in today's world, and it definitely added to the drama and tension!
Hannah was an awesome main character. She was so relatable to me in that she was a studious, focused, rule-following girl afraid to take risks. An added bonus was that she's Korean — yay for diversity! Nick was funny and sweet. Their conversations made it easy to believe that they would be best friends. I also really liked the interactions between Hannah and her older sister, Grace, and her "real life" best friend Lo (another diverse character, Latina). While I will admit, they weren't the best supporters of Hannah in her situation, they weren't afraid to tell Hannah how it is, no sugarcoating.
Now of course I have to talk about the romance between Hannah and Nick. There's lots of drama. Especially with the setting of Vegas, I was reminded at points of The Secret Diamond Sisters series by Michelle Madow, but with less of the cheesiness. We're almost immediately introduced to a whole cast of characters that are a part of Nick's life. When Hannah and Nick meet, it's like two completely different worlds colliding. Lies are uncovered, and lots of craziness goes down. And through it all, Hannah is trying to confess her love to her best friend, who is trying to reign in his feelings for her because of the whole having a girlfriend situation. I really didn't like his girlfriend, either. She seemed way too fake and ditsy.
Basically all the scenes between Hannah and Nick, you could feel the tension. It was pretty obvious that Nick was in love with Hannah too. But we have to wait until the very end to see how it all turns out. And I was very happy with the ending. I thought it was the most adorable ending. It was the perfect way to finally bring the two best friends together at last. It may seem cliche, but it was perfect happy ending for Hannah and Nick, no worries!
So all in all, In Real Life was a cute and fun new take on the "friends to more" trope in YA. It's a super quick read, with some unique qualities that definitely make it stand out in a good way! If you're looking for your next favorite light, contemporary romance, In Real Life just may be the one!
---
Playlist
---
Excerpt
CREDIT: In Real Life by Jessica Love; Courtesy of Thomas Dunne Books
My best friend and I have never met.

We talk every day, on the phone or online, and he knows more about me than anyone. Like, deep into my soul. But we've never actually seen each other in real life.
Sometimes, when I'm talking to Nick, I wonder how we man- aged to get ourselves into such a bizarre, complicated friendship. At first glance, our relationship probably doesn't seem all that odd. Like right now, it's the Friday afternoon that kicks off the spring break of my senior year. I'm lying out next to my pool with my feet dangling in the chilly water, my back flat on concrete, and I'm talking to him on the phone. This is how I spend pretty much every Friday from 3:30 to 4:25-ish, before he goes off to band practice and I have one of my various school or family obligations. Sounds pretty normal.
But the thing is, Nick lives in a different state, 274 miles away. Yes, I looked it up.
"Ghost," he says, because he never calls me Hannah, "you know I will do anything for my best friend, and this is no exception. I'll have this girl killed for you without a second thought. Just give me twenty-four hours."
I laugh as I swish my feet back and forth in the pool. "There's no need to resort to murder. It's just a stupid student government trip. I'll be over it by the end of the week."
As tempting as it is to plot Aditi Singh's violent end, the only reason she applied to go to the national leadership conference when it should have been a given that the senior class president (aka me) was going was because I got into UCLA and she didn't, so a big ol' middle finger to her. But she can't see my middle finger, because she's in Washington, D.C., for spring break and I'm at home with no plans like a big loser.
"Well, if you change your mind," Nick says, "just let me know. That's how much our friendship means to me. The code word is 'Platypus.' Just say it, and—poof!—I'll make her disappear."
I sit up and pull my feet from the pool, crossing them in front of me. "And how can you do that?"
"Hey, I live in Vegas. I have connections to the mob. Everyone here does."
"You're a senior in high school, and you live in a tract home in Henderson. You're not exactly Al Pacino."
"You don't know. Everything I've told you for the past four years could be a front. I need to have a cover. No one suspects the quiet, nondescript white boy."
"You're right. There is a lot I don't know about you. I mean, there are any number of huge secrets you could be keeping from me." I say it just because I'm playing along, but it's not true at all. I'm pretty sure I know everything there is to know about Nick Cooper.
I know when my sister met his brother at a concert four years ago and they told us we should start talking online, he thought I was one of his brother's friends playing a joke on him until I e-mailed him a picture. I know in the middle of junior year, he shaved his head when his favorite English teacher started chemo. I know the gravelly scratch of his voice when he wakes up in the middle of the night to answer one of my random "I'm bored, talk to me" phone calls. I know the hole in the sleeve seam of the lucky Rage Against the Machine T-shirt he inherited from his brother, Alex, since I've seen so many pictures of it. I know his middle name (Anthony), the date and time he was born (September 24 at 3:58 A.M.), and his favorite color (gray). And he knows more about me than absolutely anyone else, even the über-embarrassing stuff. We've IM'd, texted, sent a million pictures, mailed each other packages, video-chatted, and talked on the phone.
We've just never been in the same place at the same time.
I don't think it's strange to be so close to someone I've never met. Yeah, he's in Nevada and I'm in Southern California, but I talk to him more than to people I've been in classes with since kindergarten. I do wish we could go to the movies together or something normal like that, but we watch the same movies at the same time and mock them over video chat, which is pretty much the same thing.
On the other end of the phone, his laugh stops abruptly and his voice changes. "Secrets? What kind of secrets could I have?"
"Who knows!" I try to sound shocked and serious, but I can't keep a laugh from creeping in. "For all I know, you do have a secret mob life. Do you have some sort of gangster name I'm supposed to call you?"
His voice lightens again when he realizes I'm joking. "Oh yeah. Knuckles Nick. Or, no. Wait. Nick the Click."
"What does that even mean?"
"I don't know. It rhymed. Don't those names always rhyme?"
"I know nothing about mob names, Nick the Click. But rhyming names do make mobsters seem a bit less murder-y."
There's a shuffle, a thump, and a squeak on his end of the phone, and I imagine him collapsing backwards onto his twin bed. "I just hate that you're still bummed over missing out on the trip."
"It's not that I'm bummed, it's just . . . I followed all the rules, Nick. I did exactly what I was supposed to do. Serving four years as class president means I go on that trip, not Aditi Singh. Onetime vice-presidents don't get to go! It's supposed to be my year. She broke the rules, but she got picked. How do you break all the rules and get what you want like that? It isn't fair."
"Well, you know what they say. . . ." "Life's not fair?"
"Well, that, too. But I was thinking rules are made to be broken."
---
I hope you decide to pick up a copy of IN REAL LIFE! If you're looking for an adorable contemporary, make this your next read!