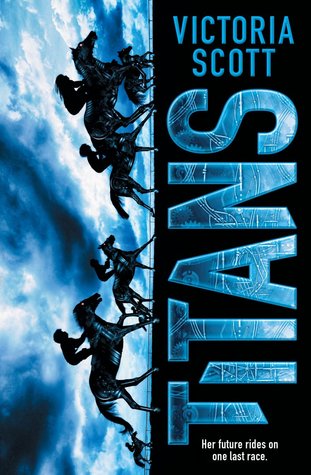 Publisher: Scholastic Press
Release Date: February 23rd, 2016
Series: N/A
Pages: 320
Format: ARC
Source: Publisher
Genre(s): Adventure, Sci-Fi
Synopsis from Goodreads:
From Victoria Scott, author of FIRE & FLOOD, comes a thrilling story of impossible odds.

Ever since the Titans first appeared in her Detroit neighborhood, Astrid Sullivan's world has revolved around the mechanical horses. She and her best friend have spent countless hours watching them and their jockeys practice on the track. It's not just the thrill of the race. It's the engineering of the horses and the way they're programmed to seem so lifelike. The Titans are everything that fascinates Astrid, and nothing she'll ever touch.

She hates them a little, too. Her dad lost everything betting on the Titans. And the races are a reminder of the gap between the rich jockeys who can afford the expensive machines to ride, and the working class friends and neighbors of Astrid's who wager on them.

But when Astrid's offered a chance to enter an early model Titan in this year's derby, well, she decides to risk it all. Because for a girl from the wrong side of the tracks, it's more than a chance at fame or money. Betting on herself is the only way she can see to hang on to everyone in the world she cares about.
Special thanks to Scholastic for providing me with an advance copy of the book for review!
When I first heard about Titans soon after its announcement, I knew I had to read it. I say that a lot, but I loved every aspect of what I heard about it. It seemed like it would be unique in ways that other YA books aren't. Mechanical horses, a protagonist who is financially unstable, and a story centered around friend and family relationships instead of a romance. Add in the adventure of the Titan Derby, and you've got one heck of an awesome book!
The book is really fast-paced. The chapters are quite short, which I like when reading adventure stories. It makes me feel like I'm flying through the story, and that kind of writing style is definitely fitting for a book like this. The race scenes are intense. I was on the edge of my seat, gritting my teeth, rooting for Astrid to go for the win!
Speaking of Astrid, the characters are an aspect of this book that make the story what it is. Astrid was an incredible main character. She's strong and fierce, and will do anything to save her family. She's also incredibly stubborn, but you can't help but root for her. The relationship between her and her entire family, particularly her and her father, was touching. Magnolia, Astrid's best friend, was another part of the book that I loved. The female friendship was refreshing to see. Both girls are in similar situations, and it's clear the love they have for each other. Then there's Rags, first introduced as a grumpy old man, but you'll come to love him. He becomes the much-needed father figure for Astrid. The dynamic of the whole group is one that is both comical and heartwarming, seeing the relationships build.
But possibly my favorite part of the whole book was the star of the show: Padlock, Astrid's Titan. Unlike the other Titans, Padlock is given the ability to have emotion. It was sometimes hard to envision a metal horse having feelings and showing affection, but Victoria Scott wrote it pretty darn convincingly! I loved Padlock just as much as her Pandoras. The relationship that formed between him and Astrid was definitely different, but a memorable one. The Titans in general were really cool. I would have loved to have learned more about their build and operation, other than the quick remarks Astrid mentioned for racing. Like, how did Padlock get programed to have emotion? It seems we'll never know.
Titans is action-packed and intense, but also filled with heart. The characters, relationships, and story is not one that I'll be forgetting anytime soon. Another win for Victoria Scott!