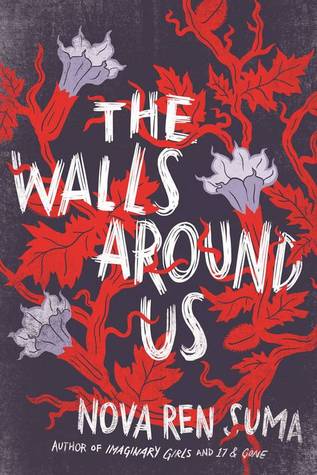 Publisher: Algonquin Young Readers
Release Date: March 24th, 2015
Series: N/A
Pages: 336
Format: ARC
Source: Publisher
Genre(s): Mystery, Paranormal
Synopsis from Goodreads:
"Ori's dead because of what happened out behind the theater, in the tunnel made out of trees. She's dead because she got sent to that place upstate, locked up with those monsters. And she got sent there because of me."

The Walls Around Us is a ghostly story of suspense told in two voices—one still living and one long dead. On the outside, there's Violet, an eighteen-year-old dancer days away from the life of her dreams when something threatens to expose the shocking truth of her achievement. On the inside, within the walls of a girls' juvenile detention center, there's Amber, locked up for so long she can't imagine freedom. Tying these two worlds together is Orianna, who holds the key to unlocking all the girls' darkest mysteries.

We hear Amber's story and Violet's, and through them Orianna's, first from one angle, then from another, until gradually we begin to get the whole picture—which is not necessarily the one that either Amber or Violet wants us to see.

Nova Ren Suma tells a supernatural tale of guilt and innocence, and what happens when one is mistaken for the other.
Special thanks to Algonquin YR for providing me with an advance copy for review!
I'm not quite sure where to begin with writing this review, so I'm just going to dive right into it. The Walls Around Us was a book that I was hotly anticipating, but for the first 3/4ths of the book nothing about the story made it stand out to me as something new and unique from other books in this genre. It was somewhat easy for me to forget about and easily left my mind when I wasn't reading it. Lately I've been reading a lot of mysteries and The Walls Around Us just wasn't singling itself out. But then you get to a point where you finally start to really really understand what's going on and put the puzzle pieces together, and this changed my entire feelings about the book.
The last parts of the book I couldn't read fast enough. The story builds up to the exciting end with flashbacks and memories told from two POVs: Amber and Vee. When these parts from the past are finally done (they are completely essential, and don't drag, but just aren't as exciting as that ending!) the pacing of the book completely changes, things are revealed and I'm sure that this ending will shock you. I was completely caught off guard with this ending, and IT WAS AWESOME!!!
Nova Ren Suma's writing was beautiful and ghostly, just like the synopsis says. Somehow she has the ability to make such a gruesome and harsh reality of a story sound so poetic.
All in all, the majority of The Walls Around Us didn't blow me away, but this book is definitely worth reading for the amazing writing and ending. It's definitely a psychological book that will leave you dumbstruck!