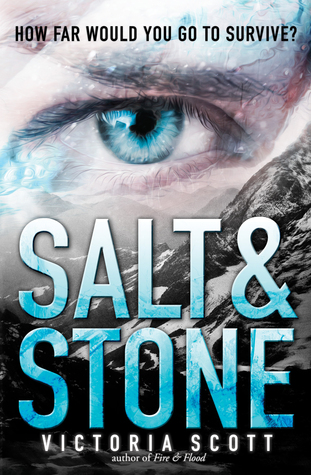 Publisher: Scholastic Press
Release Date: February 24th, 2015
Series: Fire & Flood, #2 | Fire & Flood
Pages: 320
Format: ARC
Source: Publisher
Genre(s): Dystopian, Sci-Fi
Synopsis from Goodreads:
What would you do to save someone you love?

In Fire & Flood, Tella Holloway faced a dangerous trek through the jungle and across the desert, all to remain a Contender in the Brimstone Bleed for a chance at obtaining the Cure for her brother. She can't quit–she has to win the race, save Cody, and then fight to make sure the race stops before it can claim any more lives. In the next legs of the race, across the ocean and over mountains, Tella will face frostbite, sharks, avalanche, and twisted new rules in the race.

But what if the danger is deeper than that? How do you know who to trust when everyone's keeping secrets? What do you do when the person you'd relied on most suddenly isn't there for support? How do you weigh one life against another?

The race is coming to an end, and Tella is running out of time, resources, and strength. At the start of the race there were one hundred twenty-two Contenders. As Tella and her remaining friends start the final part of the race, just forty-one are left–and only one can win.
Special thanks to Scholastic Press for providing me with an advance copy of the book for review!
EEP! You guys, I cannot say enough good things about this book and series. Salt & Stone is a rollercoaster ride jam packed with action, sci-fi, romance, adventure, family, friendship, and TELLA.
As book 2, Salt & Stone continues the crazy story of Tella and her fellow Contenders racing through the Brimstone Bleed. If you thought that Fire & Flood was intense, just wait! Salt & Stone takes it up a notch, and Victoria Scott isn't afraid to write scenes that will blow your mind, whether it be from excitement or shock.
Not to mention that Tella is about as amazing as main characters come. She's witty and sarcastic, but extremely caring and conflicted when it comes to her brother who she's trying to save, the Contenders she's beginning to love, and the Pandoras, who she needs to protect. She changes drastically from the beginning of Fire & Flood to the end of Salt & Stone, and as a reader, you won't be able to help but root for her and feel the heartache of her position. And she's pretty BA, which helps too!
I am stronger than I was before.


*Quote taken from unfinished ARC and may be changed with final edits.*
The Pandoras, and the relationship that Tella shares with them are another part of this story that I love so much. When I was reading any scene with a Pandora I just kept thinking of my own pet, and putting us in Tella's struggles. Not only are they cool in that their abilities are amazing, but they bring a bit of relatability to the story.
Really throughout the whole book I would be thinking in the back of my mind: "What would I do?" I hope that I'd be like Tella, because she's definitely an amazing role model and character to want to be. She's the heart of the story, and what makes Salt & Stone so amazing. Not to be cliché, but Tella is the new Katniss.
All in all, Salt & Stone was an awesome sequel to Fire & Flood, which I loved just as much. The ending was left open, and I've read that Victoria Scott may be writing a third book, so my fingers are crossed! This is a story that I would definitely want to visit again. I'd recommend these books to anyone, as there really is something that everyone will love!