---
In Life
Whelp, I've come down with something that my doctors can't diagnose and it's gotten pretty bad, so I've been feeling awful. I pretty much just laid on the couch all day yesterday, hence this being posted on a Monday. But I am feeling a bit better today, and I'm hoping to get a lot of reading done and maybe even post a review later in the day?!
---
In Books
Again only one book added to the shelf this week and that was…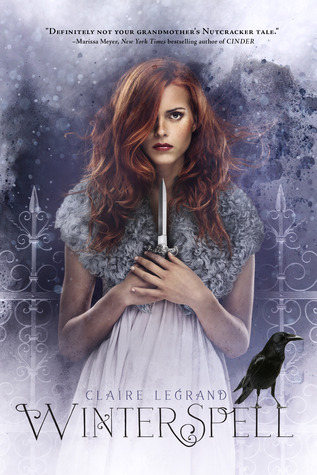 Winterspell by Claire Legrand – I just couldn't resist the beautiful cover! And of course the story sounds amazing!
~
This past weekend I finished In A Handful of Dust by Mindy McGinnis, which I absolutely LOVED, which I was totally expecting to. Mindy McGinnis is quickly becoming one of my favorite authors!
Yesterday I started reading Rush by Eve Silver, which I've been meaning to read for such a long time, and I snagged a review copy from YA Bound Book Tours earlier in the month and have been itching to dive into it. So far it's really cool and different from any other sci-fi I've read and I'm really enjoying it!
---
In Blogging
Cait @ The Notebook Sisters shares what she categorizes as the 10 Types of Book Bloggers.
Various book bloggers have commented on the somewhat shocking and disturbing post that was put up by The Guardian, recently. As a fellow book blogger this was really scary for me, and it makes you second-guess the things you say online. Dana @ The Nerdy Journalist's Post | Amanda @ Book Badger's Post | Rachel @ Confessions of a Book Geek's Post
Erika @ The Red Bookmark talks about expanding the subject areas of her blog to her other interests! I think that's an awesome idea and I can't wait to read her thoughts and ideas on other things besides books!
Nereyda @ Mostly YA Book Obsessed wrote an amazing post on the future of book blogging.
TMI Source reported that Cassandra Clare's, The Mortal Instruments series is going to be adapted into a TV show by the same director of the first film. (Side note: I'm planning to write a full-fledged post on my thoughts about everything Shadowhunter soon)
Erin @ The In Between Place discusses why she loves negative reviews.
~
As for my blog, here are the posts you may have missed last week!
I reviewed How We Fall by Kate Brauning.
I'm waiting on Finding Paris by Joy Preble.
I'm staying in with some spooky reads this Halloween (Trick or Treat…or Read?)
I reviewed In A Handful of Dust by Mindy McGinnis.
I'm hoping to spend some time making the rounds commenting on all of your lovely posts soon. And of course catching up on replying to comments here on my blog! 😉
---
How was your week? I'd love to hear from you!