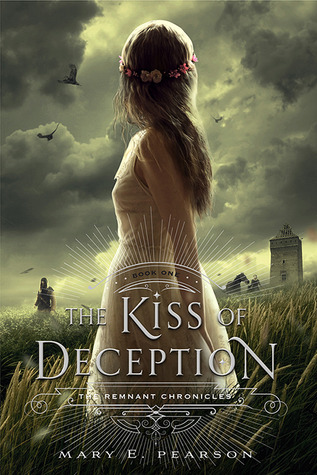 Publisher: Henry Holt and Co. (BYR)
Release Date: July 8, 2014
Pages: 489
Format: eARC
Source: Publisher via NetGalley
Series: The Remnant Chronicles, #1
Genre(s): Fantasy, Romance
Synopsis from Goodreads:
In this timeless new trilogy about love and sacrifice, a princess must find her place in a reborn world.

In a society steeped in tradition, Princess Lia's life follows a preordained course. As First Daughter, she is expected to have the revered gift of sight—but she doesn't—and she knows her parents are perpetrating a sham when they arrange her marriage to secure an alliance with a neighboring kingdom—to a prince she has never met.

On the morning of her wedding, Lia flees to a distant village. She settles into a new life, hopeful when two mysterious and handsome strangers arrive—and unaware that one is the jilted prince and the other an assassin sent to kill her. Deception abounds, and Lia finds herself on the brink of unlocking perilous secrets—even as she finds herself falling in love.
Special thanks to Henry Holt and Co. (BYR) and NetGalley for providing me with an advance copy for review!
Wow. Just wow. The Kiss of Deception blew me away. After reading many 4 and 5 star reviews, I had such high expectations for this book, and they were all met.
The Kiss of Deception had everything I look for in a young adult fantasy: detailed descriptions, passionate romances, strong female characters and wonderfully developed side characters. There was not a moment I was bored or felt the need to skim over passages. Every page was written beautifully, filled with a story I couldn't put down.
Right from the beginning of the book you are thrown into the story of the main character, Lia. She's such a strong-willed character hell-bent on deciding her own fate, which I absolutely loved about her. This is definitely a character-driven book. There are a whole bunch of characters, each written to have depth and a background, definitely adding to the overall story. The side-characters were a part of the story that I loved and I can't wait to learn more about some of their pasts, particularly Gwyneth.
Told for three very unique points of view, Lia, The Prince, and The Assassin, the reader gets the whole story from ALL perspectives. Mary E. Pearson also throws a curve-ball (at least in my opinion) with the true identities of the characters you think you have pegged. I was shocked and a little confused, but I adored the reveals nonetheless.
The title, The Kiss of Deception, is oh so fitting for this book. The reader right along with the characters is deceived and will be shocked with how the story pans out.
All in all, this book was such a satisfying read, leaving me anxious for the next book in what I can tell will be one of my favorite new fantasy series. I'd definitely recommend this book to fantasy and romance lovers who are in need of an addicting new book filled with complex characters, romances, and of course fantasy! The Kiss of Deception will not disappoint!