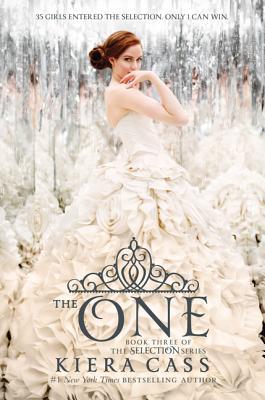 Publisher: HarperTeen
Release Date: May 6, 2014
Pages: 323
Format: Hardcover
Source: Bought
Series: The Selection, #3
Genre(s): Dystopian, Romance
Synopsis from Goodreads:
The highly anticipated third book in Kiera Cass's #1 New York Times bestselling Selection series, The One will captivate readers who love dystopian YA fiction and fairy tales. The One is perfect for the fans who have followed America's whirlwind romance since it began—and a swoon-worthy read for teens who have devoured Veronica Roth's Divergent, Ally Condie's Matched, or Lauren Oliver's Delirium.

The Selection changed America Singer's life in ways she never could have imagined. Since she entered the competition to become the next princess of Illéa, America has struggled with her feelings for her first love, Aspen—and her growing attraction to Prince Maxon. Now she's made her choice . . . and she's prepared to fight for the future she wants.

Find out who America will choose in The One, the enchanting, beautifully romantic third book in the Selection series!
After much anticipation for the finale to The Selection series, I am happy to say that The One was a satisfying conclusion.
It started off a little slower than I was expecting, but it soon picks up, politics and rebellions being a larger part of the storyline than in the previous two books. There's definitely more action and excitement surrounding events other than The Selection itself, which I really liked.
Of course romance remains the main aspect of the story. I was very happy to find that the America in The One is much more decisive than the America of The Selection and The Elite. She finally made her choice (took her long enough!) but I was glad to see that she came to her conclusion quickly.
Although this did lead to a predictable ending, BUT I was okay with that. The fact that America finally made a decision made me SO happy as a reader. I was so glad she finally figured out what was right for her.
I wasn't really partial to either Maxon or Aspen (I spent my fair share of time loving them both!), but I can honestly say that all readers, whether Team Maxon or Team Aspen will be satisfied with America's choice. The One had a very "happily ever after" ending, so I don't think anyone will be too disappointed.
Overall, The One was a cute, fun, and happy ending to a series that I've really enjoyed! Those of you who are wary to start reading straight dystopian would be perfect for these books, or even those well-read in the genre. The Selection series makes for a fun and light story that everyone is sure to enjoy!