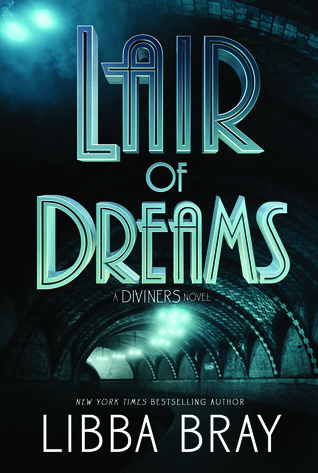 Publisher: Little, Brown Books for Young Readers
Release Date: August 25th, 2015
Series: The Diviners, #2 | The Diviners
Pages: 624
Format: eARC
Source: Publisher via NetGalley
Genre(s): Historical Fiction, Mystery, Paranormal
Synopsis from Goodreads:
After a supernatural showdown with a serial killer, Evie O'Neill has outed herself as a Diviner. Now that the world knows of her ability to "read" objects, and therefore, read the past, she has become a media darling, earning the title, "America's Sweetheart Seer." But not everyone is so accepting of the Diviners' abilities…

Meanwhile, mysterious deaths have been turning up in the city, victims of an unknown sleeping sickness. Can the Diviners descend into the dreamworld and catch a killer?
Special thanks to Little, Brown BYR and NetGalley for providing me with an advance copy of the book for review!
The long wait for Lair of Dreams is (almost) over! Although I hopped on The Diviners bandwagon late, and didn't have to wait nearly as long as some of you dedicated fans to see what happened next, I was probably just as excited as you to dive back into this world.
While Lair of Dreams had a different kind of feel than book one, it still had Libba Bray's amazing, atmospheric writing that brings you into the roaring 20s, and of course, the paranormal world of Diviners. In great contrast to the horror and gore of The Diviners, this one brings on the eerie mystery of dream worlds.
Some new characters are introduced, but the old gang returns for more, but some (like Evie) fall more to the background. Henry's past gets explained, and the book focuses mostly on him and his abilities. The new character, Ling, is also at the forefront of the story. More Diviners come out of the woodwork, and lead the story in the direction of not only solving the current dream problem, but trying to understand what to make of all the paranormal coming into their world.
I was a bit disappointed to find that Evie gets dragged into a predictable love triangle in Lair of Dreams. But, I will say that it didn't take over the book, which was a relief. While Evie, Sam, and Jericho are going through heartache, the romance between Henry and his childhood sweetheart was refreshing!
This one was a little slower paced than its predecessor, but with Libba Bray writing the story, you can't help but be entranced to continue reading.
The ending hinted that the next book will possibly dig deeper into the world of the paranormal in general, and get to the bottom of what's been causing all the mayhem. What I got from the book was that the next book will maybe have Theta, Sam, and possibly Jericho back on center stage as each of them tackle the new(ish) problems that they've been facing in Lair of Dreams.
While I still thoroughly enjoyed Lair of Dreams, it fell a bit short when comparing to The Diviners. Libba Bray's iconic writing was enough to keep me pulled under to "dream with her."