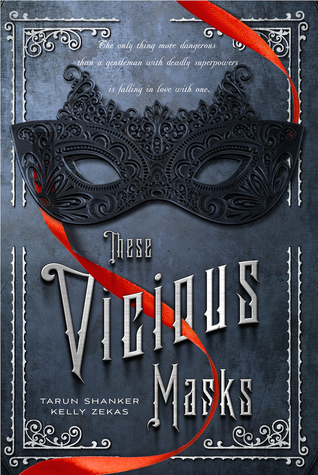 Publisher: Swoon Reads
Release Date: February 9th, 2016
Series: These Vicious Masks, #1
Pages: 352
Format: eARC
Source: Publisher via NetGalley
Genre(s): Historical Fiction, Paranormal
Synopsis from Goodreads:
Jane Austen meets X-­Men in this gripping and adventure-­filled paranormal romance set in Victorian London.

England, 1882. Evelyn is bored with society and its expectations. So when her beloved sister, Rose, mysteriously vanishes, she ignores her parents and travels to London to find her, accompanied by the dashing Mr. Kent. But they're not the only ones looking for Rose. The reclusive, young gentleman Sebastian Braddock is also searching for her, claiming that both sisters have special healing powers. Evelyn is convinced that Sebastian must be mad, until she discovers that his strange tales of extraordinary people are true—and that her sister is in graver danger than she feared.
Special thanks to Swoon Reads and NetGalley for providing me with an advance copy of the book for review!
This book was pretty darn awesome. But couldn't you just tell it would be from the very first line of the synopsis? Um, YES! Well, These Vicious Masks combined two genres that I love to read: historical fiction and paranormal, in a way that was witty, snarky, fun, and exciting! The story was super fast-paced. There was tons of banter. And Evelyn was reminiscent of Jane Austen's Elizabeth Bennet. In other words, I was smiling throughout the entire book.
These Vicious Masks is one of those books that you can't help but adore from the moment you begin reading. From the very beginning, only a few pages in, I was hooked. Right off the bat, the story is filled with everything I mentioned before that I loved: all the banter, all the wit, and lots of mystery!
The characters were one of my favorite parts of the story. When I said that Evelyn was like Lizzie, I wasn't kidding. She's snarky, clever, funny, and can hold her own. There's of course two handsome men, Mr. Kent and Mr. Braddock. Both of them are equally swoony and each brings something different to the table. Mr. Kent is the happy-go-lucky, silly guy with a warm heart. And Mr. Braddock is the brooding, tall-dark-handsome. Evelyn totally calls Braddock on that fact, too. I loved those scenes between them! The banter between Evelyn, Kent, Braddock, and even the other side characters is light and oh so entertaining.
Not only were the characters awesome, but the story, of course was too. The paranormal abilities of the characters are freaking cool, and I can't wait to learn more about them. Where did they come from? Where will it take them? We don't yet know… The mystery surrounding the kidnapping of Evelyn's sister Rose was made even more interesting thanks to those abilities. And of course there's a revelation at the end that I can tell will be further investigated in the next books. I was getting a very Clockwork Angel vibe from the whole thing.
Well, now I've compared this book to two others. I don't like it when I compare books, but to get the feeling of the book across to you, I can really only do it by way of referencing other titles. Not that These Vicious Masks is like a copy of either of the books — it's definitely not. But I think that it takes the best qualities from those two novels and puts them together in a great way, and creates an awesome new story.
My one problem was the ending. I thought it seemed a bit rushed, and ended out of the blue. I would have liked more closure to bring the first installment of this series to a less convenient end. But, that was the least of my worries when looking at this book as a whole.
All in all, These Vicious Masks is simply tons of fun! There's laughs, there's action, and there are the slightest hints of a romance. It's not your typical deep and dark historical fiction novel. There's something in These Vicious Masks for everyone!