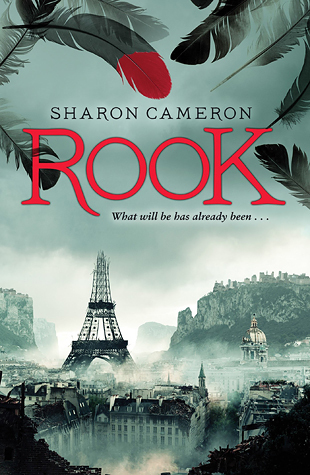 Publisher: Scholastic Press
Release Date: April 28th, 2015
Series: N/A
Pages: 456
Format: Hardcover
Source: Publisher
Genre(s): Dystopian, Post-Apocalyptic, Retelling
Synopsis from Goodreads:
History has a way of repeating itself. In the Sunken City that was once Paris, all who oppose the new revolution are being put to the blade. Except for those who disappear from their prison cells, a red-tipped rook feather left in their place. Is the mysterious Red Rook a savior of the innocent or a criminal?

Meanwhile, across the sea in the Commonwealth, Sophia Bellamy's arranged marriage to the wealthy René Hasard is the last chance to save her family from ruin. But when the search for the Red Rook comes straight to her doorstep, Sophia discovers that her fiancé is not all he seems. Which is only fair, because neither is she.

As the Red Rook grows bolder and the stakes grow higher, Sophia and René find themselves locked in a tantalizing game of cat and mouse.
Special thanks to Scholastic Press for providing me with a beautiful finished copy of the book for review!
Rook is a book, that if you give it a little bit of time, will end up being completely worth the read in the end. When I first heard about this book, I knew that it was right up my alley. A book set in post-apocalyptic France? A girl that has an alter ego that free prisoners from a corrupt government? A swoony romance? Check, check, check, yes, yes, yes.
What I really loved about Rook, apart from the amazing storyline, was the way that Sharon Cameron wrote and moved the story along. As a reader, I loved being able to check in on the story from so many different characters, as Rook had so much political intrigue happening. The moves to different characters were so seamless, and I absolutely loved how Cameron transferred the reader in such a way to the next section of the chapter.
As mentioned briefly above, Rook is a pretty slow paced book, until the end. Cameron really does an amazing job setting up the world, situations, character development, relationships, and conflicts all in the first half of the book. When I finally got to the end parts, I could not stop turning pages. There was so much action, excitement and suspense!
While Rook is a post-apocalyptic/dystopian book, it read so much like historical fiction that I couldn't help but love it! The dialogues, wardrobes and architecture all reflected what reminded me of the French aristocracy.It was unique in that fact that it wasn't futuristic, but instead, the world had gone back in time.
There was a romance, and while I did enjoy it, I can honestly say that I didn't fall completely head over heels in love with either René or Spear! Originally I liked both men for different reasons (René for being cocky and clever, Spear for being the "boy next door" type and being protective), but as the story progressed, my fondness for both diminished. I felt like the relationship between Sophie and René (while nothing really happened until toward the end, Sophie decided she loved René pretty quickly, I thought) was rushed. And I thought that Spear lost his charming protectiveness when he started to develop an obsession with Sophie not being with René.
As I said before, the ending was the best part of the book. There were some huge revelations, sad deaths, and I felt the story was wrapped up really well. Rook is definitely a great read, and I'd highly recommend it for both fans of historical fiction and post-apocalyptic/dystopia!