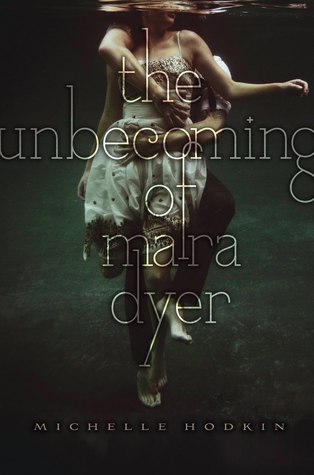 Publisher: Simon & Schuster Children's Publishing
Release Date: January 21st, 2011
Pages: 452
Format: Paperback
Source: Bought
Series: Mara Dyer, #1
Genre(s): Mystery, Paranormal, Romance, Thriller
Synopsis from Goodreads:
Mara Dyer doesn't think life can get any stranger than waking up in a hospital with no memory of how she got there.
It can.

She believes there must be more to the accident she can't remember that killed her friends and left her mysteriously unharmed.
There is.

She doesn't believe that after everything she's been through, she can fall in love.
She's wrong.
I knew that I was going to love The Unbecoming of Mara Dyer. Everything about it screamed "Psychological thriller! Read me!" I have a weakness for sometimes dark, often twisty, books. They're about as close to the horror genre as I get, and I love walking that line like it's a tightrope. The Unbecoming of Mara Dyer will thrill you, confuse you, and sometimes creep you out. You may have to reread passages because you'll find yourself thinking, "Wait — what?!"
From before the book even starts, before chapter one of the story, I was already drawn in. Michelle Hodkin writes the book from two different points in time: Before and After. Although most of the time we are reading from After, the chapters that flip back to Before are chilling, and of course, make the overall mystery that much more intriguing. And the best part yet: Mara Dyer is the epitome of an unreliable narrator. We never really know what is real and what a dream, hallucination, or memory.
The general story alone would have kept me completely immersed, but add Noah Shaw and it just got somehow even more immersive. Here are three reasons why Noah Shaw made this book even better:
He's British. Yes, I'm one of those girls that is all for slapping on a British accent and falling in love immediately. 
He's sexy with a bad boy reputation.
He's really not that bad of a guy and has a flawless personality.
*faints*
Oh and the sexual tension between Mara and Noah made me want to blush sometimes…
But all in all, The Unbecoming of Mara Dyer was everything I was hoping for. It was exciting, mysterious, eerie, and sexy all at once. And that ending! Well, let me just tell you I plan to read book two ASAP.