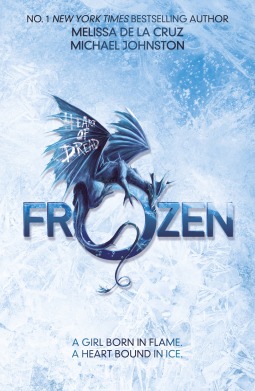 Publisher: Orchard Books
Release Date: September 17, 2013
Pages: 352
Format: eARC
Source: Publisher via NetGalley
Series: Heart of Dread, #1
Genre(s): Dystopian, Paranormal, Post-Apocalyptic
Synopsis from Goodreads:
From New York Times bestselling author Melissa de la Cruz and Michael Johnston comes this remarkable first book in a spellbinding new series about the dawn of a new kind of magic. Welcome to New Vegas, a city once covered in bling, now blanketed in ice. Like much of the destroyed planet, the place knows only one temperature—freezing. But some things never change. The diamond in the ice desert is still a 24-hour hedonistic playground and nothing keeps the crowds away from the casino floors, never mind the rumors about sinister sorcery in its shadows. At the heart of this city is Natasha Kestal, a young blackjack dealer looking for a way out. Like many, she's heard of a mythical land simply called "the Blue." They say it's a paradise, where the sun still shines and the waters are turquoise. More importantly, it's a place where Nat won't be persecuted, even if her darkest secret comes to light. But passage to the Blue is treacherous, if not impossible, and her only shot is to bet on a ragtag crew of mercenaries led by a cocky runner named Ryan Wesson to take her there. Danger and deceit await on every corner, even as Nat and Wes find themselves inexorably drawn to each other. But can true love survive the lies? Fiery hearts collide in this fantastic tale of the evil men do and the awesome power within us all.
Special thanks to Orchard Books and NetGalley for providing me with an advance copy of this book for review!
I was really disappointed in Frozen. This is one of the first books that I actually thought about DNFing. At first I wasn't sure if it was just me, because I wasn't in the perfect mood for this book. But normally books categorized as either dystopian, post-apocalyptic, even paranormal, I can read whenever, it just takes me some time to get into it. But Frozen wasn't like that at all. I ended up putting it down a little under half-way and read two other books in between, finally picking it back up and finishing. So, it took me quite a while to read. I'm pretty sure the only thing that was driving me to finish it was because I got this as a review copy.
My first problem with the book is that there is SO much going on genre wise. First you think it's post-apocalyptic, then dystopian, then paranormal…there's even pirate type people in this book! I mean, come on, stick to one, at most two, things! For this reason I felt like the development was way lacking. The authors focused on the wrong things to put detail into.
It had such a promising first few chapters, but it went kind of downhill from there. The character's relationships were way underdeveloped, there was no sense of time, and it got kind of boring for me, especially since there were so many ways that the book could have gone with all the different genres it attempts to fit into.
Ugh, and then the romance. Toward the end it got a little better but it was pretty much your typical scenario: bad boy plots against pretty girl who has powers, bad boy starts to question morals because of feelings for pretty girl, pretty girl tells him about powers, they fall in love. The end. There were some parts that were definitely cute, but it was all too rushed despite the slowness of the middle. It was one of those romances that came out of nowhere, but you were expecting, if you know what I mean?
Then there was the fact that it wasn't what I was expecting at all. That's not the book's fault, more the cover. In both covers, new and old, there were dragon aspects. I wanted dragons! The dragon idea is only a part of the last few chapters of Frozen, much to my dismay.
I get the feeling that as this is the first book in a series, Frozen served as the book to set the stage for a bigger storyline. Unfortunately, I don't think I'll be continuing on with the series to see what that bigger storyline is. It was a good idea, but the execution is what ruined the book for me.