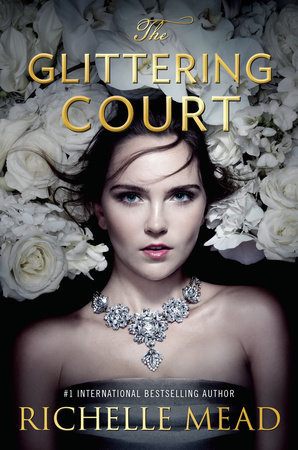 Publisher: Razorbill
Release Date: April 5th, 2016
Series: The Glittering Court, #1
Pages: 416
Format: eARC
Source: Publisher via First to Read
Genre(s): High Fantasy, Romance
Synopsis from Goodreads:
A dazzling new fantasy series set in a mix of Elizabethan and frontier worlds that's dripping with romance from Richelle Mead, #1 internationally bestselling author of Vampire Academy.

Big and sweeping, spanning the refined palaces of Osfrid to the gold dust and untamed forests of Adoria, The Glittering Court tells the story of Adelaide, an Osfridian countess who poses as her servant to escape an arranged marriage and start a new life in Adoria, the New World. But to do that, she must join the Glittering Court.

Both a school and a business venture, the Glittering Court is designed to transform impoverished girls into upper-class ladies capable of arranging powerful and wealthy marriages in the New World. Adelaide naturally excels in her training and even makes a few friends: the fiery former laundress Tamsin and the beautiful Sirminican refugee Mira. She manages to keep her true identity hidden from all but one: the intriguing Cedric Thorn, son of the wealthy proprietor of the Glittering Court.

When Adelaide discovers that Cedric is hiding a dangerous secret of his own, together, they hatch a scheme to make the best of Adelaide's deception. Complications soon arise—first, as they cross the treacherous seas from Osfrid to Adoria, and later, when Adelaide catches the attention of a powerful governor.

But no complication will prove quite as daunting as the potent attraction simmering between Adelaide and Cedric. An attraction that, if acted on, would scandalize the Glittering Court and make them both outcasts in wild, vastly uncharted lands. . . .
Special thanks to Penguin First to Read for providing me with an advance copy of the book for review!
The Glittering Court is the first book that I've read by Richelle Mead. While her Vampire Academy series has been on my radar forever, I've never been quite sure if it's something that I wanted to commit myself to. I'm not a big fan of vampires. So when I first heard about The Glittering Court, I was intrigued. I loved the idea of a high fantasy set during a time period similar to that of the colonial Americas. Unfortunately I can't say that I loved this book. I really wanted to! There were some aspects of the story that I really enjoyed, but other parts were lacking, leading me to have "meh" and mediocre feelings toward it.
As I said before, I loved the premise and overall storyline. But when I get down to the nitty gritty, there were some things that I just couldn't ignore. The book seemed like it was never-ending. Sure it's on the longer side, but I felt like the pacing was pretty slow throughout. That being said, the book takes place over quite a long period of time. I guess what was frustrating to me was the way the the "boring" parts of the story that were supposed to last a few months, were brushed off in probably 10 pages. While on the other hand, the action and more "exciting" parts that took place in minutes or hours were given more pages. I understand the want to avoid endless description of boring details, but it threw me off with the book's timeline.
My other main problem with the book was the amount of "things" going on. There were lots of characters, and lots of storylines intertwining. Some authors can pull that off, but I just felt like many of the storylines were rushed and underdeveloped. The book covers such a range of time, characters, and settings. I think the story would have been less confusing if there was more development.
Continue reading "Review: THE GLITTERING COURT by Richelle Mead" →