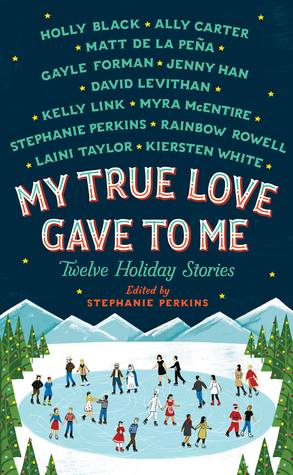 Publisher: St. Martin's Press
Release Date: October 9th, 2014
Series: N/A
Pages: 320
Format: Hardcover
Source: Gifted
Genre(s): Anthology, Christmas, Contemporary Romance, New Years
Synopsis from Goodreads:
If you love holiday stories, holiday movies, made-for-TV-holiday specials, holiday episodes of your favorite sitcoms and, especially, if you love holiday anthologies, you're going to fall in love with MY TRUE LOVE GAVE TO ME: TWELVE HOLIDAY STORIES by twelve bestselling young adult writers, edited by international bestselling author Stephanie Perkins.
As this is an anthology with twelve different stories and authors, I'll be writing a few sentences on each to share my thoughts with you! I'll give a rating to each story and then an overall rating at the end.
---
"Midnights" by Rainbow Rowell
This was such a great story to start out the book with. Rainbow Rowell's story was cute, and everything that she is known for. I immediately loved the characters, and I didn't want this story to end. But when it did, I was left smiling in true Rainbow Rowell fashion.

"The Lady and the Fox" by Kelly Link
I had never heard of Kelly Link before reading this story, and while I liked it, her writing was a little hard to love. This was a fantasy-romance story stuck amongst a book full of contemporary, so there was something magical and dreamlike about it. Still, I wasn't a huge fan of the characters. But it definitely has a magical Christmas feel to it.

"Angels in the Snow" by Matt de la Peña
I had never read any of Matt de la Peña's work before, but I did really like this story. It was cute, but a little predictable. There was drama, and things progressed pretty quickly, but I still really enjoyed it!

"Polaris Is Where You'll Find Me" by Jenny Han
I was really disappointed with this story. I love Jenny Han — I'm obsessed with pretty much all of her books. Her story was so short, and while it was cute, I just wasn't feeling it. I was hoping and expecting a romance that would make me all swoony but I didn't get that at all with this one, unfortunately. 😦

"It's a Yuletide Miracle, Charlie Brown" by Stephanie Perkins
While I was really looking forward to Jenny Han's story, Stephanie Perkins was the one that I was oh so eager to get to. And all I can say is asdfghjkl. This. Story. I would be so happy if it continued on for a full length book because: A. The characters were so awkward and wonderful and NORTH. He was so SWOONY. and B. I liked this story just as I liked Anna & Etienne and Lola & Cricket and Isla & Josh. So I guess this is kind of like me begging Stephanie Perkins to continue writing their story as a full length book? Please, and thank you.

"Your Temporary Santa" by David Levithan
After everything I've heard about how David Levithan is such an amazing author, I can say I was extremely let down by this story. It was cute, but it didn't really have a beginning-middle-end thing going on. I didn't see the progression or point. Cute, but definitely my least favorite so far.

"Krampuslauf" by Holly Black
Another disappointing story, although I wasn't expecting Holly Black's writing to be anything like an ordinary holiday romance. This story was strange, but I kind of liked it! Definitely not a story you'd expect to see in a holiday anthology, but it was unique and spiced things up a bit.

"What the Hell Have You Done, Sophie Roth?" by Gayle Forman
I really enjoyed this one! Having never read Gayle Forman's writing before I really liked it and her characters. It wasn't my favorite, but one of the stories from the book that I particularly enjoyed!

"Beer Buckets and Baby Jesus" by Myra McEntire
This was another really cute story! I love Myra McEntire, but have never read anything of the contemporary genre from her, so this was a pleasant surprise! The characters were cute and it was one of those opposites attract stories that you can't help but love.

"Welcome to Christmas, CA" by Kiersten White
This story was really heartwarming and very holiday-ish. That's all I can really say about it! Very cute.

"Star of Bethlehem" by Ally Carter
I would have to put this story right up there with some of my other favorites from the anthology! And the ending was so hopeful for the holidays, I just couldn't help but love it! And Ethan = SWOON. I'm definitely eager to check out more of Ally Carter's books after EVERYONE has been telling me they're so fun!

"The Girl Who Woke the Dreamer" by Lani Taylor
This one wasn't a very holiday-ish story either, but I thoroughly enjoyed it. Very magical and fantastical — could easily be freestanding.

OVERALL:
A wonderful collection of holiday stories from such wonderful authors, that will be sure to entertain and fill your heart with holiday delight!