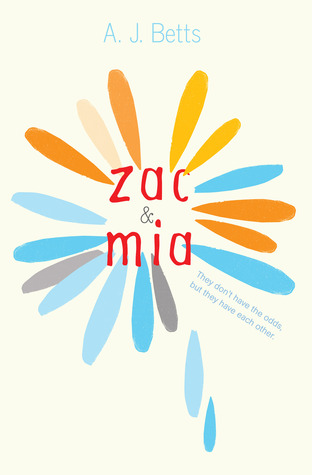 Publisher: HMH Books for Young Readers
Release Date: September 2nd, 2014
Pages: 289
Format: eARC
Source: Publisher via NetGalley
Series: N/A
Genre(s): Contemporary
Synopsis from Goodreads:
The Fault in Our Stars meets Eleanor and Park in this tough and tender young adult novel that's a lot about love (and a little about cancer).

Winner of the 2012 Australian Text Prize

"When I was little I believed in Jesus and Santa, spontaneous combustion, and the Loch Ness monster. Now I believe in science, statistics, and antibiotics." So says seventeen-year-old Zac Meier during a long, grueling leukemia treatment in Perth, Australia. A loud blast of Lady Gaga alerts him to the presence of Mia, the angry, not-at-all-stoic cancer patient in the room next door. Once released, the two near-strangers can't forget each other, even as they desperately try to resume normal lives. The story of their mysterious connection drives this unflinchingly tough, tender novel told in two voices.
Special thanks to HMH Books for Young Readers and NetGalley for providing me with an advance copy for review!
Zac & Mia was such a beautiful story. Although it had it's small, miniscule flaws, it was a book that I fell in love with both the written story, but also the wonderfully fresh and funny characters. I fell in love with the fact that stories like this are real, and that stories like this can have happy endings.
I thought I was going to be crying a river when reading Zac & Mia, but I didn't. That's not because the author didn't make the story disease-driven. I felt like the diseases that both Zac and Mia had were their driving force and the reason they were brought together, but that wasn't a bad thing. A.J. Betts wrote these characters in a way that made you optimistic as the reader. One of the characters may be the exact opposite of optimistic, but the character development for such a short book is amazing. I loved getting to see how both characters almost swap places from start to finish. Soon their force to keep going isn't to stay alive, but stay alive FOR the other person, and I think that was beautiful how much both Zac and Mia were affected by each other.
As I mentioned before, for such a short (I say that as an opinion of mine, and the eARC was only marked 203 pgs) book, I was amazed at how much emotion, character development, and just storytelling in general the author jammed into that book. Because, while I ended optimistic, this book took me through a rollercoaster of emotions. I often found myself sitting there reading and stop to think how I would act and feel in that situation. I loved that this book made me think, and reflect on how LUCKY I really am.
I've read some reviews comparing Zac & Mia to The Fault in Our Stars — the very synopsis does! — and while, unless you have a fetish for YA books about cancer patients, there isn't a reason for comparison. Zac & Mia is different, unique, and wonderful in it's own ways. And when you choose to read this book, please don't make comparisons between the two.
Overall, Zac & Mia is a book that I am so happy  I read. I loved every bit of it, and I'm so very thankful that this book had a happy ending!