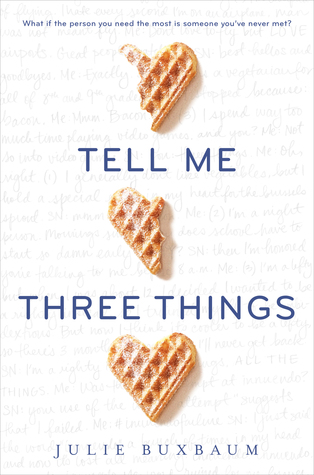 Publisher: Delacorte Press
Release Date: April 5th, 2016
Series: N/A
Pages: 336
Format: ARC
Source: Publisher via First In Line
Genre(s): Contemporary, Romance
Synopsis from Goodreads:
Everything about Jessie is wrong. At least, that's what it feels like during her first week of junior year at her new ultra-intimidating prep school in Los Angeles. Just when she's thinking about hightailing it back to Chicago, she gets an email from a person calling themselves Somebody/Nobody (SN for short), offering to help her navigate the wilds of Wood Valley High School. Is it an elaborate hoax? Or can she rely on SN for some much-needed help?

It's been barely two years since her mother's death, and because her father eloped with a woman he met online, Jessie has been forced to move across the country to live with her stepmonster and her pretentious teenage son.

In a leap of faith—or an act of complete desperation—Jessie begins to rely on SN, and SN quickly becomes her lifeline and closest ally. Jessie can't help wanting to meet SN in person. But are some mysteries better left unsolved?

Julie Buxbaum mixes comedy and tragedy, love and loss, pain and elation, in her debut YA novel filled with characters who will come to feel like friends.
Special thanks to First In Line for providing me with an advance copy of the book for review!
---
Three Things I Loved About
TELL ME THREE THINGS
1. Jessie's friendships with Dri, Agnes, and most of all, Scarlett.
Jessie has lots of relationships in this book. There's family, friends, guys, mean girls, a step-brother… the list goes on and on. But one of my favorite parts about the story was Jessie's relationship with her best friend pre-move, Scarlett. Their friendship was raw, and definitely not without its flaws, but I loved how it was given a lot of discussion, and made important. I also really enjoyed her friends at the new school, Dri and Agnes. It was clear that they were good friends to Jessie, and their bonds would be lasting. The story also touched on a bit of jealousy over new relationships that formed for both Jessie and Scarlett after they were separated. Everything about how these friendships were portrayed seemed real and full of emotion. Normally I don't cry over friendships, but Jessie and Scarlett's was one that I couldn't help it.
2. The continuous conversation between Jessie and SN (and how it was adorable, yet real).
The mysterious SN was a character that I loved. He and Jessie communicated almost all the time, thanks to instant messaging. Originally he intrigued me because of the mystery, but as the story progressed he became more than just words on a computer screen. Their conversations were so raw and full of emotion, you couldn't help but root for Jessie to finally find out his identity so they could be together! She poured out all of her feelings to him, and took a leap of faith that he was genuine.
3. Trying to figure out who SN was!
Ah, of course solving the mystery had to make my list. As I mentioned in #1, Jessie makes lots of new relationships, some of which are with guys. There is tons of build up at the end when she's hoping SN is one person, but worried it may be another. I was biting my nails, hoping that SN would be the same guy that she was falling for in real life. I guess you'll just have to read it and see for yourself…
---
Really, I could share more than just three things that I loved about this book, because I have a lot! But in all seriousness, Tell Me Three Things gave me all the feels. I was an emotional mess while I was reading this (but what else is new with me), which I wasn't expecting to be. But in all honesty, if you enjoy true to life contemporaries with strong friendships and an emotional story, Tell Me Three Things is your book!