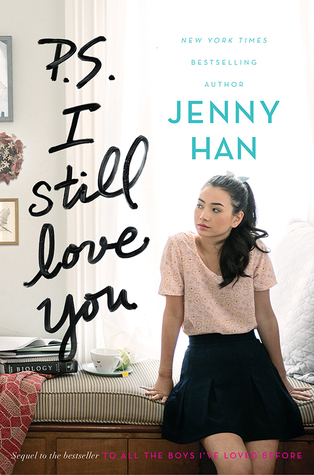 Publisher: Simon & Schuster BYR
Release Date: May 26th, 2015
Series: To All the Boys I've Loved Before, #2 | To All the Boys I've Loved Before
Pages: 352
Format: Hardcover
Source: Bought
Genre(s): Contemporary Romance
Synopsis from Goodreads:
Lara Jean didn't expect to really fall for Peter.
She and Peter were just pretending. Except suddenly they weren't. Now Lara Jean is more confused than ever.
When another boy from her past returns to her life, Lara Jean's feelings for him return too. Can a girl be in love with two boys at once?

In this charming and heartfelt sequel to the New York Times bestseller To All the Boys I've Loved Before, we see first love through the eyes of the unforgettable Lara Jean. Love is never easy, but maybe that's part of what makes it so amazing.
Why did I wait so long to read this book?! From the moment I finished To All the Boys I've Loved Before I needed to know how it would end for Lara Jean and Peter. And I'm so happy to say that P.S. I Still Love You made me quite happy!
While the first book I remember being a lighter and fluffier read, showing the antics that brought Lara Jean and Peter together, this one I found to be a bit more serious. Lara Jean and Peter go through their struggles, so there is an emphasis on first serious relationships and the emotions they bring. There's also a large emphasis on family once again. The diversity of having a Korean-American main character was awesome. We got to learn a bit about the Song family's traditions. And of course, there's the friendship aspect of the book. The Lara Jean-Genevieve friendship is dealt with much more, and we get to learn more about the two when they were children, and just their childhoods in general.
I loved all of those three aspects of the book, but I of course loved the romance too. Peter Kavinsky is such a sweet, and real guy. The relationship and story is all portrayed in such a real way that's relatable. There wasn't one point while I was reading that I thought something happening could have been fake.
The one thing that I didn't like about this was the introduction of another love interest. I didn't like the timing of a new possible relationship for Lara Jean when it came up in the story. I'm a Peter girl, that's for sure!
If you've read the first book, this is a must read. It won't disappoint you. If anything, I think that there's a very high chance you reading this book will make you love Lara Jean and Peter even more!