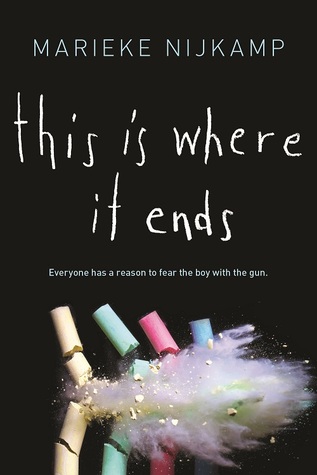 Publisher: Sourcebooks Fire
Release Date: January 5th, 2016
Series: N/A
Pages: 292
Format: eARC
Source: Publisher via NetGalley
Genre(s): Contemporary, Realistic Fiction
Synopsis from Goodreads:
10:00 a.m.
The principal of Opportunity, Alabama's high school finishes her speech, welcoming the entire student body to a new semester and encouraging them to excel and achieve.

10:02 a.m.
The students get up to leave the auditorium for their next class.

10:03
The auditorium doors won't open.

10:05
Someone starts shooting.

Told over the span of 54 harrowing minutes from four different perspectives, terror reigns as one student's calculated revenge turns into the ultimate game of survival.
Special thanks to Sourcebooks Fire and NetGalley for providing me with an advance copy of the book for review!
I'll start out this review by saying that this is NOT a book for everyone. I don't normally tend to read lots of books that are focused around tough issues, such as school shootings. The reality of the story is sometimes too much for me to handle. But something about the summary for This Is Where It Ends made me pick it up. Maybe the idea of it being told over such a short amount of time. Maybe the fact that it follows so many people, each of whom has a connection to the shooter. I can't quite pinpoint the why, but this was a book I was immediately intrigued by.
I knew I had to be in the right mindset to read a book about a shooting. They happen much too frequently in the United States, and around the world, for this book to be one that is read lightly. But in light of the recent events around the US, I was already almost numb, I'll say, to the horrible events of mass shootings.
The main focus of the book is the school shooting, but there are also other tough topics conquered by This Is Where It Ends. There's physical, mental, and sexual abuse. There's sexuality. You may be thinking, "Why cover so many tough topics in one book, where the main story is already so hard to take?" Well all of those other topics factor into the life of the shooter, and make this book truly emotional. There's romantic and familial relationships. Friendships. All of them are extremely important to this story.
The story is told through multiple POVs, and their parts in current as past events. While this allows us to learn more about the POV characters, and even bits and pieces about the shooter, we don't get to learn about the internal struggle that is clearly happening inside his mind. I was warned about this before starting the book, but I agree that the inclusion of the shooter's perspective would have made this a truly unique book, and not so typical.
What I really loved was how the book was told over the span of only 54 minutes. The flashbacks did make it seem like it was a longer span of time, but I still liked the chaotic tone the book had. I read this in almost one sitting, which I think is a good thing to do, especially considering the timing. Reading practically all of it at once made me feel immersed in the story, more so than the normal book I'd read in one sitting.
Yes, there were things that I would have liked to have been different. No, the book wasn't perfect. But I think that it's extremely relevant considering the world we live in, unfortunately. And I think that Marieke Nijkamp did a wonderful job of portraying so many of the current issues and relationships in today's society.
Not for the faint-hearted, This Is Where It Ends is truly an emotional and heart-pounding read that will make you wonder how you would act in the character's places and question the inner turmoil of those around you.
Sourcebooks Fire is running a promotion for those that have pre-ordered a copy of THIS IS WHERE IT ENDS and asked me to share the details with you! Trust me, you want to read this book.
Between now and the book's on-sale date we're giving away custom "TIME WAS OURS" lanyards, and the chance for one lucky person to win a Polaroid Digital Instant Print Camera!

There are two ways to enter the giveaway:

1 – If you pre-order a copy of This Is Where It Ends by Marieke Nijkamp, submit your name, mailing address, email address, and order confirmation number via the Rafflecopter widget provided.

2 – If you have not pre-ordered a copy of This Is Where It Ends by Marieke Nijkamp, you may enter the giveaway by printing your name, mailing address, email address and the phrase "This Is Where It Ends" on a standard-size postcard and send to: Publicity, c/o Sourcebooks, Inc., 1935 Brookdale Rd., #139, Naperville, IL 60563.
ENTER THE GIVEAWAY!