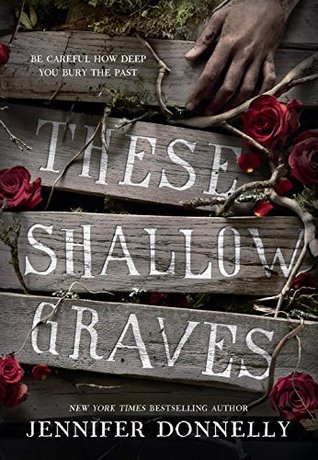 Publisher: Delacorte Press
Release Date: October 27th, 2015
Series: N/A
Pages: 496
Format: eARC
Source: Publisher via NetGalley
Genre(s): Historical Fiction, Mystery, Romance
Synopsis from Goodreads:
Jo Montfort is beautiful and rich, and soon—like all the girls in her class—she'll graduate from finishing school and be married off to a wealthy bachelor. Which is the last thing she wants. Jo secretly dreams of becoming a writer—a newspaper reporter like the trailblazing Nellie Bly.

Wild aspirations aside, Jo's life seems perfect until tragedy strikes: her father is found dead. Charles Montfort accidentally shot himself while cleaning his revolver. One of New York City's wealthiest men, he owned a newspaper and was partner in a massive shipping firm, and Jo knows he was far too smart to clean a loaded gun.

The more Jo uncovers about her father's death, the more her suspicions grow. There are too many secrets. And they all seem to be buried in plain sight. Then she meets Eddie—a young, brash, infuriatingly handsome reporter at her father's newspaper—and it becomes all too clear how much she stands to lose if she keeps searching for the truth. Only now it might be too late to stop.

The past never stays buried forever. Life is dirtier than Jo Montfort could ever have imagined, and the truth is the dirtiest part of all.
Special thanks to Delacorte Press and NetGalley for providing me with an advance copy of the book for review!
YA Historical Fiction is one of my go-to genres. I love how they transport me back in time to to places that I'll never be able to visit and things I'll never be able to experience. But one of my favorite things about the genre is the way that historical fiction authors tend to have their female protagonists step outside the lines about what's considered "right" for women and girls during the period. There hasn't been a historical fiction book I've read where there's a damsel in distress, and These Shallow Graves is no different.
From the very beginning you can't help but love Jo Montfort. She's a fish out of water in her world, only wanting to do what she loves: investigative journalism. She's fierce and stops at nothing to discover the truth. We really get to see her development throughout the story. Early on she's careful to hide her true self, but as the story progresses she begins to stand up for herself and what she wants her life to be.
The story itself is very fast paced and exciting. I wasn't able to put These Shallow Graves down. For such a large book, especially in the historical genre, I was nervous that it would be a slow read, with some portions dragging, but that's not the case at all. As the story goes on, the mystery deepens, and things get intense enough to keep you turning pages and solving the mystery along with Jo.
As you can imagine, the book surrounds a dark topic: murders. I mean, look at the title… But it is lightened by Jo's wonderful personality, and a sweet romance between her and Eddie, a lower class reporter who helps her out, and she just can't resist.
The ending seemed a little rushed, for such a clearly well thought out and long book. It was kind of like a huge information dump right at the end in one confession. But I still think that it was written very well and the ending provided good closure to the story.
These Shallow Graves is a monster of a book, with wonderful characters, an intense and exciting mystery, and surprises that will keep you guessing until the very end. Don't be intimidated by the size, because once you pick it up you won't want to put it down until the mystery's been solved!
If you're looking for other historical books with girls who just can't help but break the rules, check out The Diviners and Lair of Dreams by Libba Bray! More on the paranormal end of the spectrum, and just as exciting as These Shallow Graves!