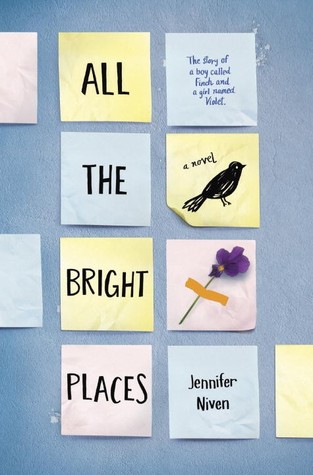 Publisher: Knopf
Release Date: January 6th, 2015
Series: N/A
Pages: 388
Format: Hardcover
Source: Bought
Genre(s): Contemporary, Romance
Synopsis from Goodreads:
Theodore Finch is fascinated by death, and he constantly thinks of ways he might kill himself. But each time, something good, no matter how small, stops him.

Violet Markey lives for the future, counting the days until graduation, when she can escape her Indiana town and her aching grief in the wake of her sister's recent death.

When Finch and Violet meet on the ledge of the bell tower at school, it's unclear who saves whom. And when they pair up on a project to discover the "natural wonders" of their state, both Finch and Violet make more important discoveries: It's only with Violet that Finch can be himself—a weird, funny, live-out-loud guy who's not such a freak after all. And it's only with Finch that Violet can forget to count away the days and start living them. But as Violet's world grows, Finch's begins to shrink.
Where do I even start with this book? I've been putting off writing this review for a while now because I just don't know how to put all of these emotions I have for All the Bright Places into words.
I'm finding it extremely hard to explain the feelings it gave me except that it filled me up. Every possible emotion, even ones I never knew I could feel. Reading this book was a lot like riding the Blue Flash rollercoaster. There were highs and lows and lots of loops, but I wanted to ride this book again.
All the Bright Places manages to be witty yet tragic, and heartwarming yet utterly heartbreaking.
I loved both Violet and Finch, and their journeys wanderings together. Both were beautiful, complex people, and they definitely relatable and raw characters.
There isn't much I can say to "review" this book. I can't critique it because it's just one of those books that you can't. All I can say is that All the Bright Places touched me and will stay in my heart and mind forever. It won't be a book for everyone, but I think whether it's your kind of book or not, it will leave a mark on you for the better.
I had the amazing privilege to meet Jennifer Niven recently and she shared some amazing tidbits about the book with us. You can read them here.