I was so excited when I was asked to be a part of the blog tour for Love Fortunes and Other Disasters! This was one of my most anticipated reads for the year, so getting asked was a treat. From the moment I saw the cover…it was love at first sight! I'm wrapping up the tour, but be sure to check out the end of this post for a giveaway and the other tour stops! Happy release day to this lovely book!!
The Review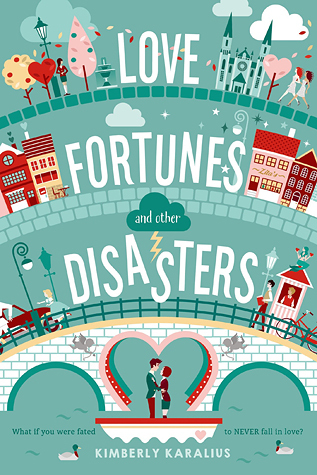 Publisher: Swoon Reads
Release Date: May 12th, 2015
Series: N/A
Pages: 368
Format: ARC
Source: Publisher
Genre(s): Contemporary, Fantasy, Romance
Synopsis from Goodreads:
In the tradition of Alice Hoffman's Practical Magic, one girl chooses to change her fortune and her fate by falling in love.

Love is real in the town of Grimbaud, and Fallon Dupree has dreamed of attending high school there for years. After all, generations of Duprees have successfully followed the (100% accurate!) love fortunes from Zita's famous Love Charms Shop to happily marry their high school sweethearts. It's a tradition. So she is both stunned and devastated when her fortune states that she will NEVER find love.

Fortunately, Fallon isn't the only student with a terrible love fortune, and a rebellion is brewing. Fallon is determined to take control of her own fate—even if it means working with a notorious heartbreaker like Sebastian.

Will Fallon and Sebastian be able to overthrow Zita's tyranny and fall in love?
A very special thanks to Swoon Reads for providing me with an advance copy of the book for review and for inviting me to be a part of the blog tour!
A whimsical, quirky, and inventive read, Love Fortunes and Other Disasters will not disappoint those looking for an adorable story and romance!
Kimberly Karalius' writing was fresh and fun. The magic of the town of Grimbaud was brought to life through her vivid storytelling. The story had magical touches, while reading like contemporary romance, making this book unique and lovable.
Each character had a boatload of personality and brought something different to the story. The main character Fallon was funny and bright. Sebastian was smart and charming. Even the side characters were wonderful — Nico, Fallon's friend was one of my favorites, along with Fallon's perfectionist family members. Ms. Ward, the librarian was another personal favorite!
Love and romance were clearly the main focuses of the story. In any other setting or situation I feel like the overwhelming obsession with either would have been too much. But, something about the charm of the peculiar little town of Grimbaud made it all work. Fallon and Sebastian's romance was really cute, just as I expected! They are another hate to love couple and you all know how I can't get enough of those relationships!
I quite enjoyed the ending when things got more exciting. My one foible with the book was the pacing. While I found Love Fortunes to be an easy read, I thought it dragged a bit in the middle (I was actually surprised at how long it was when I was sent my ARC).
But all in all, Love Fortunes and Other Disasters was something completely new and different! While not for everyone, I think this story is definitely worth the read if you're into magical, fairytale-esque, sweet love stories with a modern contemporary twist!

About the Author
If you gave her a wish bone, Kimberly would wish fervently for snow in Florida. Her love for 90s cartoons (or any cartoons, really) knows no bounds. She might be the only person you know who can be completely engrossed in watching silent films. Being in Florida certainly has one big perk: going to Disney World. Which she does. Frequently. 
Kimberly holds an MFA in fiction from the University of South Florida. Her fiction has appeared in literary journals such as Luna Station Quarterly, The Medulla Review, and Hogglepot. Her chapbook, POCKET FOREST, was published by Deathless Press in August 2013.
LOVE FORTUNES AND OTHER DISASTERS (Swoon Reads/Macmillan May 2015) is her debut novel.
Website | Twitter | Tumblr | Facebook | Instagram
---
The Giveaway!
The folks at Swoon Reads have been lovely enough to offer up a copy of the book for you to win!
(US mailing addresses only. Giveaway ends May 26th, 2015.)
---
Follow the Other Tours Stops:
5/1: Stories and Sweeties
5/4: Endlessly Reading & Word Spelunking
5/5: Lost in Literature
5/6: The Escapist
5/7: Jasmine Pearl Reads
5/8: Book Rook Reviews
5/11: Bumbles and Fairytales
5/12: Books & Cleverness