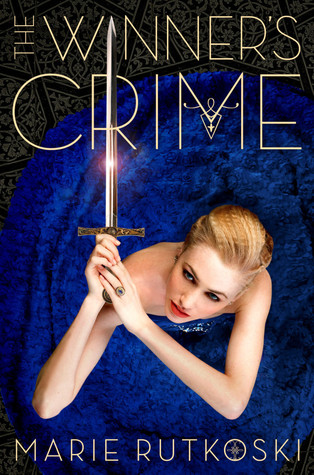 Publisher: Farrar, Straus and Giroux (BYR)
Release Date: March 3rd, 2015
Series: The Winner's Trilogy, #2 | The Winner's Curse
Pages: 416
Format: Hardcover
Source: Bought
Genre(s): High Fantasy, Romance
Synopsis from Goodreads:
Book two of the dazzling Winner's Trilogy is a fight to the death as Kestrel risks betrayal of country for love.

The engagement of Lady Kestrel to Valoria's crown prince means one celebration after another. But to Kestrel it means living in a cage of her own making. As the wedding approaches, she aches to tell Arin the truth about her engagement…if she could only trust him. Yet can she even trust herself? For—unknown to Arin—Kestrel is becoming a skilled practitioner of deceit: an anonymous spy passing information to Herran, and close to uncovering a shocking secret.

As Arin enlists dangerous allies in the struggle to keep his country's freedom, he can't fight the suspicion that Kestrel knows more than she shows. In the end, it might not be a dagger in the dark that cuts him open, but the truth. And when that happens, Kestrel and Arin learn just how much their crimes will cost them.
I don't know if I'll be able to write a coherent review for this beautiful, heartbreaking, book, because even after reading this book a few days ago from when I'm writing this review, I still feel like this:
*Yes this book requires gifs in my review. I cannot convey my feelings properly.*
 If you have been following me (whether it be on this blog or on Twitter), you will have probably seen me mention my obsession and love for this series at least once. I most likely made it well known how much I've needed this book for months, and I will 100% live up to the fact that I went to MAJOR blogger jealousy when it came to The Winner's Crime ARCs. My review for the first book somehow didn't showcase my emotions properly. I actually seemed composed, which was the exact opposite of how I felt after reading not only book two, but book one as well!
The Winner's Crime surpassed my greatest expectations. Marie Rutkoski has crafted a world, characters, relationships, and story that will keep you entranced.
Everything about the world is so clever and sharp, from the game of Bite and Sting to the political intrigue. In this book we get to explore the world a bit more, travel to other lands, and the world building deepens.
There is also the addition of new characters, along with my beloved Kestrel and Arin. The development of the characters is also amazing. You get to see a new side of Kestrel and Arin, as well as people like Jess, Ronan, and Kestrel's father.
And THE RELATIONSHIPS. Oh. My. Gosh. I think Marie Rutkoski is trying to break our hearts one thousand times over! The angst! I couldn't handle it. Kestrel and Arin are my current OTP, and they are well deserved because their storyline in The Winner's Crime is heightened to a whole new level. I seriously couldn't contain my emotions or stop reading thanks to the happenings in the book, particularly involving the pair.
Just when you thought things were going to take a turn for the better, Marie Rutkoski throws us a cruel, evil, awful, sad, curveball that brings on the feels once more. And that ending will leave you with your mouth hanging open and then soon you find that you're crying…
All in all, The Winner's Crime was everything I hoped it would be. The wait was well worth it, and if you enjoyed The Winner's Curse, then this book is a must read that will make you fall in love with the story all over again!