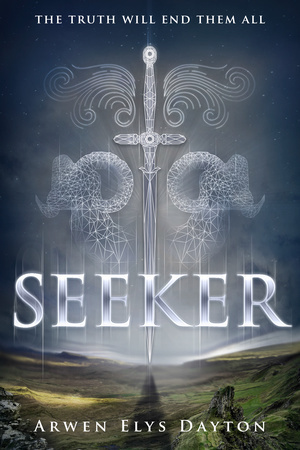 Publisher: Delacorte Press
Release Date: February 10th, 2015
Series: Seeker, #1
Pages: 448
Format: eARC
Source: Publisher via NetGalley
Genre(s): Fantasy
Synopsis from Goodreads:
For readers of A Game of Thrones and The Hunger Games comes an epic new series.

The night Quin Kincaid takes her Oath, she will become what she has trained to be her entire life. She will become a Seeker. This is her legacy, and it is an honor. As a Seeker, Quin will fight beside her two closest companions, Shinobu and John, to protect the weak and the wronged. Together they will stand for light in a shadowy world. And she'll be with the boy she loves–who's also her best friend.

But the night Quin takes her Oath, everything changes. Being a Seeker is not what she thought. Her family is not what she thought. Even the boy she loves is not who she thought.

And now it's too late to walk away.
Special thanks to Delacorte Press and NetGalley for providing me with an advance copy of this book for review!
When I first heard about Seeker, I knew that I just had to read it. It sounded like everything I love in a good, solid fantasy novel. Although it was nothing like I was expecting, and it's a fantasy story in a unique way. It's not your run-of-the-mill fantasy book. There are other elements from different genres that sneak into the storyline that make it cool and different than any fantasy book that I've ever read!
The story of Seeker is very complex, I could tell that from the beginning. For that reason, the pacing of the book seems to go by slowly, but that is not at all a bad thing. Despite the slow pace, there is still plenty of action to keep you immersed in the story and the world. It is told in four different parts (there are different locations and times), from four very different point of view characters. The books spans a large amount of time, but I liked how Dayton left a gap of time untold. It gives the reader a chance to piece together that time and how the past affected the characters. The world and setting itself are hard to categorize for this book. They seem both historical and futuristic at the same time, again adding to the complexity of the story.
Of course there is the fantasy aspect of Seeker. Throughout the book we learn more about the history of the Seekers and the cause of the years of conflict that builds up to the story in this book. But, I still would have liked to have learned more. The other fantastical element of the book were the Dreads. In the beginning of the book they were just there. It was clear they would play a larger role in the story later, and I loved how Maud (a Dread and POV character) gave us a deeper look into the life of the Dreads and their relationship with the Seekers. They were very well developed, and I came to love Maud as a character.
There is a romance involving Quin, and it is a love triangle. But before you run away from this book know that the love triangle isn't your typical one, or really one at all. It depends on how you look at it. The span of the book allows for the characters to change drastically throughout the course of the story. Also it helps that Quin isn't a girl who is completely focussed on the guys. And after a while of reading when some major events went down, I think it's clear who Quin will end up with and I was happy!
Overall, Seeker is unlike any other fantasy novel that I've ever read. I was completely engrossed with the story and the world that I didn't want to put it down! A slower read, but completely worth it. I can't wait to journey back into the story of the Seekers!