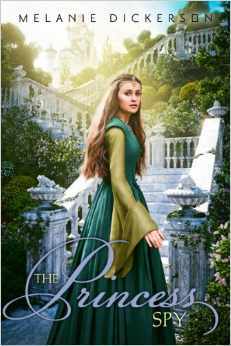 Publisher: Zondervan
Release Date: November 4th, 2014
Pages: 352
Format: ARC
Source: Publisher
Series: YA Romance Fairy Tales, #5 (no need to read in order)
Genre(s): Fairy Tale, Romance
Synopsis from Goodreads:
Margaretha has always been a romantic, and hopes her newest suitor, Lord Claybrook, is destined to be her one true love. But then an injured man is brought to Hagenheim Castle, claiming to be an English lord who was attacked by Claybrook and left for dead. And only Margaretha—one of the few who speaks his language—understands the wild story. Margaretha finds herself unable to pass Colin's message along to her father, the duke, and convinces herself 'Lord Colin' is just an addled stranger. Then Colin retrieves an heirloom she lost in a well, and asks her to spy on Claybrook as repayment. Margaretha knows she could never be a spy—not only is she unable to keep anything secret, she's sure Colin is completely wrong about her potential betrothed. Though when Margaretha overhears Claybrook one day, she discovers her romantic notions may have been clouding her judgment about not only Colin but Claybrook as well. It is up to her to save her father and Hagenheim itself from Claybrook's wicked plot.
Special thanks to Zondervan for providing me with an advance copy for review!
The Princess Spy was a book that I went into completely blind. I hadn't read any reviews of it prior to reading it, and hadn't read any of the author's previous books, so I was totally unsure about the book. What I got was an entertaining and fun fairy tale romance that is sure to delight younger YA readers!
The story is pretty fast-paced. The reader is almost immediately introduced to the conflict, and the main character Margaretha is quick to become the heroine of the story with the help of the handsome English stranger, Colin. While the story to me was extremely predictable, I still found it to be entertaining. Although, I wasn't emotionally attached to any of the characters. But, I enjoyed the development of the main character Margaretha into a character that could fight for herself and her family.
Margaretha, at eighteen, seemed to be very naïeve and immature. Her constant uncertainty at the obvious feelings of others, and insecurities about herself in the eyes of Colin got on my nerves a little. The emotion between the two of them seemed to be very out in the open, while Margaretha and Colin still seemed in the dark to the mutual feelings between them. Also, it felt like the romance was rushed. Not insta-love rushed, but progressed a little too quickly for my liking.
Overall, The Princess Spy was a fun book that will be enjoyed by younger YA readers who are looking for a sweet, clean romance. I will definitely be looking out for other books by Melanie Dickerson, as I found The Princess Spy to be quite a fun read!
*There are religious themes throughout this book, so keep that in mind while choosing if this book is for you. I am not a particularly religious person, but I still found this book to be very enjoyable.*