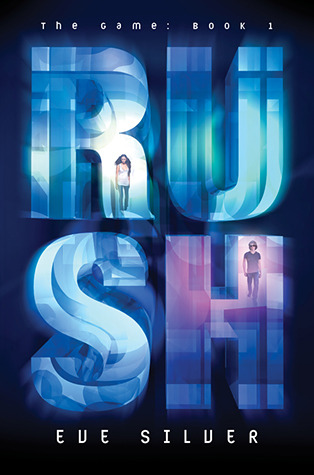 Publisher: Katherine Tegen Books
Release Date: June 11th, 2013
Pages: 384
Format: Paperback
Source: Author via YA Bound Book Tours
Series: The Game, #1
Genre(s): Sci-fi
Synopsis from Goodreads:
So what's the game now? This, or the life I used to know?

When Miki Jones is pulled from her life, pulled through time and space into some kind of game—her carefully controlled life spirals into chaos. In the game, she and a team of other teens are sent on missions to eliminate the Drau, terrifying and beautiful alien creatures. There are no practice runs, no training, and no way out. Miki has only the guidance of secretive but maddeningly attractive team leader Jackson Tate, who says the game isn't really a game, that what Miki and her new teammates do now determines their survival, and the survival of every other person on this planet. She laughs. He doesn't. And then the game takes a deadly and terrifying turn.
Special thanks to Eve Silver and YA Bound Book Tours for providing me a copy of this book for review!
Wow, Rush was an action-packed, adventure-filled, rollercoaster of a thrill ride. Super fast paced, it didn't at all lack in the "cool" department. Unlike anything I've ever read before, Rush pulled me (if you've read the book you'll get the pun) into an alternate universe filled with aliens and tons of excitement!
But while the action scenes were so entertaining, and a highlight of the book, I felt that other parts fell short. The first was the worldbuilding of the game. I would have loved to have learned more about the history of the Drau and their invasion of other planets. Also just their motives for their predatory nature and behaviors. What caused them to be this way? It wasn't necessarily a bad thing about the book, but I definitely am intrigued by these creatures and the world.
Another was the romance. Originally, I thought that this book would turn into the typical YA love triangle, but thank goodness I was wrong. But, unfortunately the romance turned out to be between Miki, the main character, and the guy that I didn't care for too much: Jackson. I felt like the romance between them was overly rushed, and I didn't really get the chemistry that was supposed to be felt between them. I found it a bit cheesy and unrealistic. Miki's thoughts about Jackson seemed way premature for the amount of time they spent together, no matter how emotionally difficult what they went through together was. I will admit thought, I found him to be very mysterious and very attractive…
But while these things did annoy me at some points, they didn't take too much away from the story. I remained engaged and interested in the story. I'm excited to check out the next book in the series and really hope that we get to learn more about the Drau, the game, the committee, and just more about the story in general.
Gamers, action-lovers, thrill-seekers, and anyone who loves a fun sci-fi will be sure to enjoy Rush!