---
In Life
Today marks the halfway point in my little break from school for Columbus Day weekend. I've been quite busy, but have been reading like a crazy person nonetheless. Yesterday I walked with my family in a Walk to End Alzheimer's, which my great aunt died of not too long ago. It was pretty chilly but the walk was lots of fun and of course for a wonderful cause.
We finally trust Clary enough to let her out at night, but when I was ready to fall asleep she thinks it's time to play, so therefore she has not yet been allowed to sleep in my room. Whenever I close my eyes she puts her paw on my eyelid as if to say, "Don't go to sleep yet!"
---
In Books
I only got one book this week but I pretty much freaked out when I saw it on NetGalley as a "Read Now" because I've been meaning to read it for such a long time!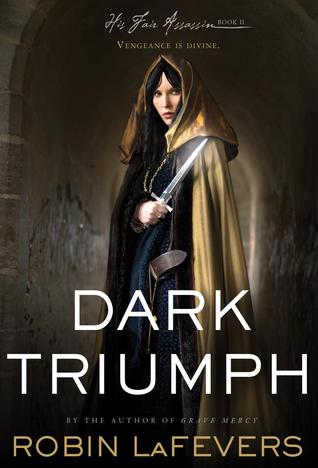 Dark Triumph (His Fair Assassin, #2) by Robin LaFevers – Thanks to Houghton Mifflin Harcourt and NetGalley!
~
Last night I finished reading How We Fall by Kate Brauning, which I finished quicker than any other book lately, and WOW. That book emotionally ruined me and brought on major feels. It had everything I could ever want in a book and I'll gush about it more in my review next week! 😉
This morning I took a break from review books because I'm pretty much caught up for the next month, and started In A Handful of Dust by Mindy McGinnis which I've been waiting for since the minute I finished Not A Drop to Drink way back in August of last year. I am already obsessed with this new story and I can tell this is going to be one that I'll be done with by tomorrow!
---
In Blogging
 Here are the links that I'm loving this week! Not as many as normal this week as I'm running behind on reading posts (as usual, unfortunately).
Octavia @ Read. Sleep. Repeat shares the books that "everyone" has read but she hasn't yet. I'm with her on a lot of these too!
Lili @ Lili's Reflections talks about how her bookshelf calms her down when she's emotional. I know the feeling.
Rachel @ Confessions of a Book Geek shares Halloween reads for us scaredy cats out there.
The Epic Reads ladies shared HarperTeen Summer 2015 covers and new titles! They look AWESOME!
~
My posts for this past week:
Confession #1: I'm a mood reader, and that sometimes makes book reviewing difficult.
Mini Review: Love and Other Unknown Variables by Shannon Lee Alexander
Waiting on…The Winner's Crime by Marie Rutkoski
---
I hope you all had a wonderful week!