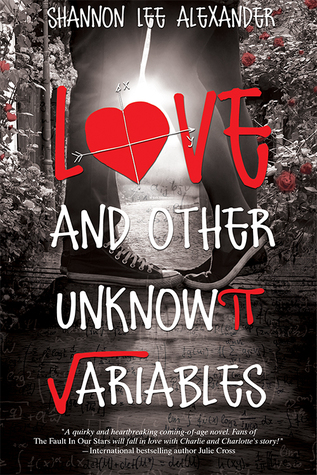 Publisher: Entangled: Teen
Release Date: October 7th, 2014
Pages: 350
Format: eARC
Source: Publisher
Series: N/A
Genre(s): Contemporary Romance
Synopsis from Goodreads:
Charlie Hanson has a clear vision of his future. A senior at Brighton School of Mathematics and Science, he knows he'll graduate, go to MIT, and inevitably discover solutions to the universe's greatest unanswered questions. He's that smart. But Charlie's future blurs the moment he reaches out to touch the tattoo on a beautiful girl's neck.

The future has never seemed very kind to Charlotte Finch, so she's counting on the present. She's not impressed by the strange boy at the donut shop—until she learns he's a student at Brighton where her sister has just taken a job as the English teacher. With her encouragement, Charlie orchestrates the most effective prank campaign in Brighton history. But, in doing so, he puts his own future in jeopardy.

By the time he learns she's ill—and that the pranks were a way to distract Ms. Finch from Charlotte's illness—Charlotte's gravitational pull is too great to overcome. Soon he must choose between the familiar formulas he's always relied on or the girl he's falling for (at far more than 32 feet per second squared).
Special thanks to Entangled: Teen for providing an advance copy for review!
Love and Other Unknown Variables is yet another story featuring a disease, but isn't a book that focuses on disease at all. It is a cute and heartfelt story of first love, and all of the unknown things that go along with it.
At first I wasn't a huge fan of the main character, Charlie. He's incredibly smart, except when it comes to girls. But as the story continues you really get to know him and love him for his quirks. And then there's Charlotte — the pretty, snarky, and funny girl that steals his heart from the moment he meets her.
Their love story is cute, and you can't help but enjoy reading it. It's uniquely told from Charlie's POV, so unlike in many contemporaries, we get to see inside the guy's mind, instead of the girls, which I really ended up liking.
And yes, there is a disease in this book. But, again like I've mentioned in other reviews, Love and Other Unknown Variables is unique, and doesn't focus on the sadness, but life itself.
All in all, Love and Other Unknown Variables was an adorable read that will be sure to fill your heart with warmth!