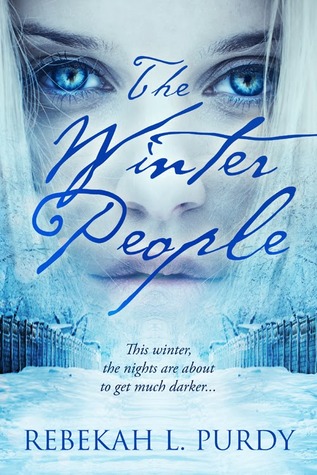 Publisher: Entangled: Teen
Release Date: September 2nd, 2014
Pages: 320
Format: eARC
Source: Publisher
Series: N/A
Genre(s): Paranormal Romance
Synopsis from Goodreads:
An engrossing, complex, romantic fantasy perfect for fans of Kristin Cashore or Maggie Stiefvater, set in a wholly unique world.

Salome Montgomery fears winter—the cold, the snow, the ice, but most of all, the frozen pond she fell through as a child. Haunted by the voices and images of the strange beings that pulled her to safety, she hasn't forgotten their warning to "stay away." For eleven years, she has avoided the winter woods, the pond, and the darkness that lurks nearby. But when failing health takes her grandparents to Arizona, she is left in charge of maintaining their estate. This includes the "special gifts" that must be left at the back of the property.
 


Salome discovers she's a key player in a world she's tried for years to avoid. At the center of this world is the strange and beautiful Nevin, who she finds trespassing on her family's property. Cursed with dark secrets and knowledge of the creatures in the woods, his interactions with Salome take her life in a new direction. A direction where she'll have to decide between her longtime crush Colton, who could cure her fear of winter. Or Nevin who, along with an appointed bodyguard, Gareth, protects her from the darkness that swirls in the snowy backdrop. An evil that, given the chance, will kill her.
Special thanks to Entangled: Teen for providing me with an advance copy for review.
Before I started The Winter People, I read Kayla's review and I immediately got nervous about going into this book as I do trust her opinions. And while I do agree with a lot of the negatives that she points out in her review, I did actually find the book somewhat enjoyable…?
The two main things that got me were A) that there were THREE love interests. Not one, not two, but THREE. This wasn't even a love triangle. More love box (as the cast of The Host movie would say).
The main character, Salome, was all over the place in the romance department, and quite frankly, I didn't understand the appeal to ANY of the guys. It was really frustrating reading from her POV because one minute she's totally in love with one guy, but then she's hanging out with another and it's magically love yet again.
And B) the paranormal aspects were so all over the place and underdeveloped it was almost laughably funny. The faerie aspects of the book were only finally introduced by name as it being a faerie book about three quarters of the way through! The first half was really just Salome hearing voices in her head and trying to decide what kept trying to attack and kill her. Oh yeah and trying to pick a guy of the day. When you get to the end of the book and realize what was really going on you'll want to know more about the world. At least I did. Looking back on this book I would have loved for the author to develop more of the faerie world throughout the book instead of cramming it into the very end. Developing it more thoroughly would have made the book so much better.
This has probably been the most negative review that I've ever written, but I actually did somewhat enjoy the book in that guilty pleasure way of knowing how awful it is, but loving it nonetheless. For some strange reason I actually was really into the story while I was reading it. The whole while I knew how ridiculous this book was, but I did like it. I'm still not really sure as to why. And since I'm feeling generous today, I decided on the rating below.
But all in all, The Winter People is not a book if you're looking for a well-written paranormal. It's more the kind of book to pick up when you're in a bad mood, lacking patience, and need something that doesn't take a lot of effort to read. Or when you wish all of your problems were like Salome's: which boy is my favorite today?