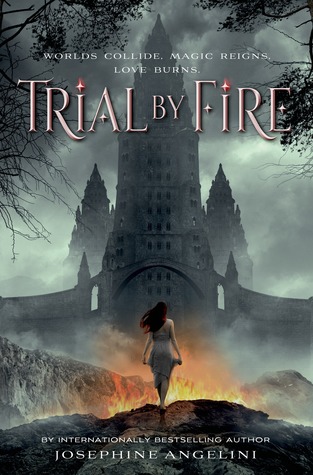 Publisher: Feiwel & Friends
Released Date: September 2, 2014
Pages: 384
Format: eARC
Source: Publisher via NetGalley
Series: The Worldwalker Trilogy, #1
Genre(s): Fantasy, Paranormal
Synopsis from Goodreads:
This world is trying to kill Lily Proctor. Her life-threatening allergies keep her from enjoying experiences that others in her hometown of Salem take for granted, which is why she is determined to enjoy her first high school party with her best friend and longtime crush, Tristan. But after a humiliating incident in front of half her graduating class, Lily wishes she could just disappear.

Suddenly, Lily is in a different Salem—one overrun with horrifying creatures and ruled by powerful women called Crucibles. Strongest and cruelest of them all is Lillian . . . Lily's other self in this alternate universe.

What makes Lily weak at home is what makes her extraordinary in New Salem. In this confusing world, Lily is torn between responsibilities she can't hope to shoulder alone and a love she never expected.
Special thanks to Feiwel & Friends and NetGalley for providing me with an advance copy of this book for review!
 After hearing some mixed things about Trial by Fire, I wasn't sure exactly what to expect. But what I got was a fast-paced and entertaining book that was difficult for me to put down.
When I read the first few chapters I thought that Trial by Fire was going to be the typical young adult paranormal book. But soon I found that I was immersed in a story of alternate worlds, alternate characters, and coolest of all – witches.
My favorite part about the whole book was the idea that there are an infinite amount of worlds, with an infinite amount of "yous" out there. Each one drastically different. I loved the world of "New Salem," the world that Lily gets brought to by her other self. It was medieval and modern at the same time, and I loved how the author chose to build this particular world. Another thing about the book that I really enjoyed was how the witches ruled, unlike how in our history of Salem the witches were persecuted and burned at the stake. In "New Salem" science is what people got punished for. When you read the book you'll be able to see just how drastically different it is.
The one thing that I had a problem with was some of the characters and how they interacted. Lily and the "new Tristan" acted completely normal together. I think it's difficult to believe their interaction would come so easily and so quickly, especially after "her Tristan" did what he did to her. I, of course, fell for the swoon of Rowan and was rooting for him and Lily throughout the entire book. I liked getting to learn little bits of his history with Lillian, Lily's evil "other." I can't wait to see where Rowan and Lily's relationship leads after this book.
This brings me to all of the awesome magical elements of the book. There are so many amazing things that the witches, and even non-magical people can do thanks to willstones. After reading this book I totally want my own! Not just the willstones, but worldwalking, firewalking, and all of the spells make for a very developed and magical society, I'll call it. The mechanics are another curious thing about this book. There's so much detailed information about the magic in this book, that fantasy fans who don't particularly love paranormal will really enjoy this one too!
All in all, I found Trial by Fire to be an exciting twist on a typical paranormal or fantasy book. Unable to put it down, I'd highly recommend this book. Trial by Fire should be the book that you buy on September 2nd!
P.S. – I hope this review wasn't too hard to follow! All of these alternate worlds and people can get difficult to explain. But Josephine Angelini had no problem, that's for sure. Didn't have trouble following the book at all.