Week in Review is a weekly post in which I wrap up what's happening in my life, in books, and in blogging (inspired by Anna @ Anna Reads)!
---
What I Did:
This is more book-related not life-related but, I placed my first ever order on Book Outlet! My birthday is coming up at the end of the month, and on a whim I decided to visit the site, and I saw too many books that I wanted. So, I placed a huge order that I told my mom to distribute to family members for my birthday. The main reason why I placed the order was because they're having $20 off a purchase of $60+ (which isn't as hard as you think to make) until August 18th! *Hint* You guys should go and buy all the books! 😉 I hope that they come in good condition because I inspect every inch of a book before I buy it in stores. I talked to a couple people and as long as you don't order a used book they're really good about replacing them if they come damaged. So, fingers crossed! I'll probably have a whole separate haul post after my birthday because there's a LOT of books, guys. I went crazy! :O
Links I Loved:
Kiera Cass, author of The Selection series had some REALLY exciting news to share with fans of the series! She asked us to Tweet and Instagram using #MoreSelection to unlock some early and extra content which you can check out HERE. But, oh wait! There's more! Hear it from Kiera herself in her special announcement video!
*squeals with excitement*
Add book
#4
and
#5
to your Goodreads shelves!
Books I Added to My Shelves:
Unlike last week's no book week, this week I got a few books!
Downloaded FREE on iBooks: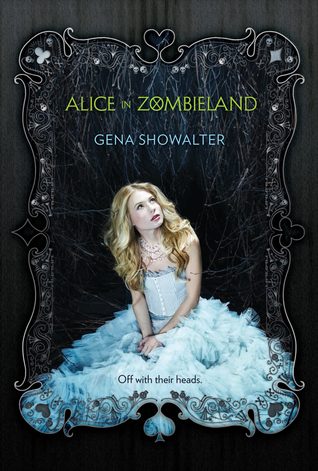 Alice in Zombieland by Gena Showalter – I don't really read on iBooks at all, but it was free so I thought "Hey, why not!" I may read it on my iPad sometime if I'm in the mood and I can't find a physical or eReader copy before then.
For Review:
The Midnight Queen by Sylvia Izzo Hunter – Have heard nothing about this one but I saw it up on First to Read and I just had to grab it! Between the cover and the synopsis I knew it sounded up my alley. It's adult, but I think you guys may like it too!
Into the Grey by Celine Kiernan – This looks like such a unique ghost story book, and I'm just starting it now! Thanks so much to Jamie @ Fic Fare and Cuddlebuggery's Little Blogger Big Ambitions program for this ARC!
Recently Finished and Currently Reading:
My most recent read was Trial by Fire by Josephine Angelini, which I'll be reviewing on the blog tomorrow, so be sure to watch out for that! Hint: I liked it a lot! Witches are awesome, guys. I haven't read a great witch book in such a long time so this was a much-needed, exciting read for me.
As I mentioned above, I just started reading Into the Grey by Celine Kiernan. I'm only a few chapters in and I'm really intrigued so far… Not sure what to expect of this one. We shall see…
On My Blog:
I hope you had a wonderful week! Let me know all about it in the comments!