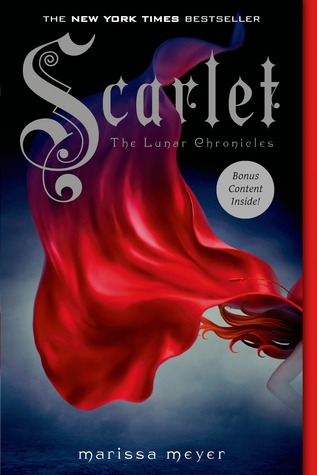 Publisher: Square Fish
Release Date: February 5, 2013
Pages: 452
Format: Paperback
Source: Bought
Series: The Lunar Chronicles, #2
Genre(s): Retelling, Sci-fi
Synopsis from Goodreads:
Cinder is back and trying to break out of prison—even though she'll be the Commonwealth's most wanted fugitive if she does—in this second installment from Marissa Meyer.

Halfway around the world, Scarlet Benoit's grandmother is missing. It turns out there are many things Scarlet doesn't know about her grandmother, or the grave danger she has lived in her whole life. When Scarlet encounters Wolf, a street fighter who may have information as to her grandmother's whereabouts, she is loath to trust this stranger, but is inexplicably drawn to him, and he to her. As Scarlet and Wolf unravel one mystery, they encounter another when they meet Cinder. Now, all of them must stay one step ahead of the vicious Lunar Queen Levana.
Oh my gosh. This book. I actually only think I put this book down to sleep and eat. I thought that Cinder was pretty good. I read it about a year and a half ago and gave it a five star rating on Goodreads. But, looking back I would drop it down to more like a 4, because, Scarlet took me on a freaking amazing rollercoaster ride. Marissa Meyer's story in Scarlet was ten times better than in Cinder. I flew through this book, and now I have a book hangover.
I'll admit that I was nervous going into Scarlet. I don't like it when authors introduce new characters after the first book in the series. You see, I get attached to the original characters from book one, and form a shield against the new additions. I'm a loyal fangirl. But after reading just pages from newbie Scarlet's perspective I knew I was going to love her. She's fierce, feisty, and fiery, and I loved her personality.
Marissa Meyer did an amazing job of telling the stories of both Cinder and Scarlet, gradually weaving them together, and toward the end having them cross paths, leading into the next book. The few interactions that they had together were very enjoyable to read, and I look forward to reading more of the two of them together.
Speaking of interactions, I was happy to see the return of Iko! She was one of my favorite characters from Cinder, and having her back in Scarlet was awesome. She's so funny, and is even more so in Scarlet. Their friendship is one of my favorite ever. Along with the return of Iko, there was the introduction of a couple new guys into the story, both of which I both adored. First we have Wolf – big, broody, and smoldering. Then there's Thorne – egotistical, amazingly good-looking, and hilarious. Wolf and Scarlet's relationship is definitely one that made me giggle, fangirl and smile uncontrollably. *swoons* As for Thorne, him and Cinder's banter is priceless and I love the team that the two of them make. I can't wait to see how their friendship progresses in the next book.
As for the story itself, there were so many reveals and tons of action! There wasn't one thing that I didn't love about Scarlet. So, overall, if you've read Cinder, Scarlet is a MUST read. The story just keeps getting better and better page by page. And if you haven't started this series yet, I highly recommend that you do! It's retellings like you've never seen them before.