Waiting on Wednesday is a weekly meme hosted by Breaking the Spine in which we share a book that we are eagerly anticipating!
---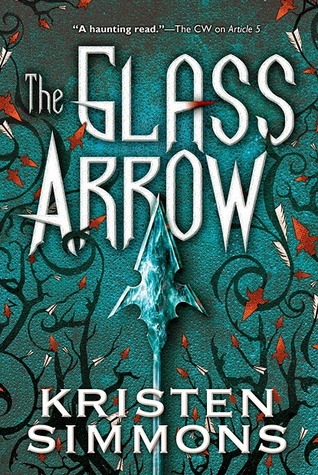 Publisher: Tor Teen
Release Date: February 10, 2015
Synopsis from Goodreads:
The Handmaid's Tale meets Blood Red Road in Glass Arrow, the story of Aya, who lives with a small group of women on the run from the men who hunt them, men who want to auction off breeding rights to the highest bidder.

In a world where females are scarce and are hunted, then bought and sold at market for their breeding rights, 15-year old Aya has learned how to hide. With a ragtag bunch of other women and girls, she has successfully avoided capture and eked out a nomadic but free existence in the mountains. But when Aya's luck runs out and she's caught by a group of businessmen on a hunting expedition, fighting to survive takes on a whole new meaning.
This book sounds like it has one of my favorite things in YA books these days: kick butt heroines who don't take anyone else's BS. The whole idea of female being "scarce" as the synopsis says is really creepy, and scary to me, being that I'm a girl. I can tell that this one will be filled with action, but chilling all the same.
What are you waiting on this Wednesday?