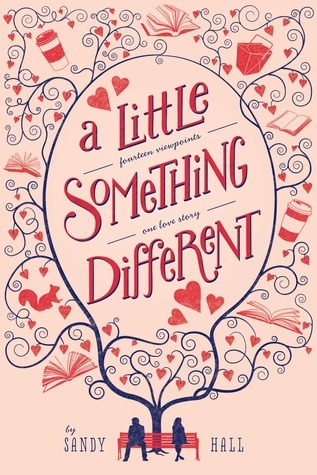 Publisher: Swoon Reads
Release Date: August 26, 2014
Pages: 272
Format: ARC
Source: Publisher
Series: N/A
Genre(s): Contemporary Romance
Synopsis from Goodreads:
The creative writing teacher, the delivery guy, the local Starbucks baristas, his best friend, her roommate, and the squirrel in the park all have one thing in common—they believe that Gabe and Lea should get together. Lea and Gabe are in the same creative writing class. They get the same pop culture references, order the same Chinese food, and hang out in the same places. Unfortunately, Lea is reserved, Gabe has issues, and despite their initial mutual crush, it looks like they are never going to work things out. But somehow even when nothing is going on, something is happening between them, and everyone can see it. Their creative writing teacher pushes them together. The baristas at Starbucks watch their relationship like a TV show. Their bus driver tells his wife about them. The waitress at the diner automatically seats them together. Even the squirrel who lives on the college green believes in their relationship.

Surely Gabe and Lea will figure out that they are ment to be together….
Special thanks to Swoon Reads for providing me with an advance copy of the book for review!
A Little Something Different was just that, unique and different. Told from fourteen perspectives, you may be wary about the amount of characters, but I promise you that doesn't hurt the story – in fact it enhances it.
There was something about reading from pretty much every possible person, except for the two who are so clearly in love. It displayed what, if told from the lovebirds themselves, would be a complex relationship, in a way that makes you look at love in a new light. It had a simplicity to it. Particularly the squirrel, which may seem weird, but I'm telling you, when you read it for yourself you'll fall in love with the cuteness. It's lack of real understanding and just relaying what it sees, a boy and girl stealing glances at each other by a bench, shows just how obviously our two love interests really do belong together.
You along with the onlookers will be rooting for Gabe and Lea to make a move and turn their small interactions and stolen glances into something more. You can't help but "fall in love with falling in love" with A Little Something Different as the Swoon Reads motto says.
Filled with adorable exchanges, interesting perspectives, and a story you won't be able to help but love, A Little Something Different is the perfect light-hearted romance for readers looking to fill the void that books like Rainbow Rowell's Fangirl left behind. It left a smile on my face, and my heart warm.
P.S. – Make sure to check out Swoon Reads' site to read and rate manuscripts and help authors on their way to getting published!