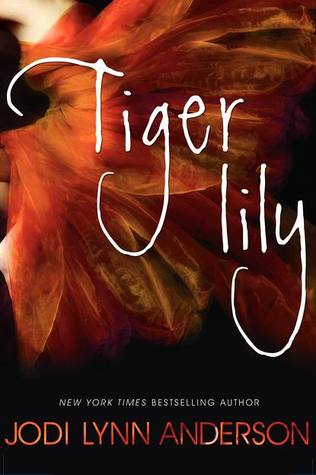 Publisher: HarperCollins Children's Books
Release Date: July 3, 2012
Pages: 292
Format: eBook
Source: Bought
Series: N/A
Genre(s): Fantasy, Retelling, Romance
Synopsis from Goodreads:
Before Peter Pan belonged to Wendy, he belonged to the girl with the crow feather in her hair. . . .

Fifteen-year-old Tiger Lily doesn't believe in love stories or happy endings. Then she meets the alluring teenage Peter Pan in the forbidden woods of Neverland and immediately falls under his spell.

Peter is unlike anyone she's ever known. Impetuous and brave, he both scares and enthralls her. As the leader of the Lost Boys, the most fearsome of Neverland's inhabitants, Peter is an unthinkable match for Tiger Lily. Soon, she is risking everything—her family, her future—to be with him. When she is faced with marriage to a terrible man in her own tribe, she must choose between the life she's always known and running away to an uncertain future with Peter.

With enemies threatening to tear them apart, the lovers seem doomed. But it's the arrival of Wendy Darling, an English girl who's everything Tiger Lily is not, that leads Tiger Lily to discover that the most dangerous enemies can live inside even the most loyal and loving heart.

From the New York Times bestselling author of Peaches comes a magical and bewitching story of the romance between a fearless heroine and the boy who wouldn't grow up.
Let me tell you something straight off. This is a love story, but not like any you've ever heard. The boy and the girl are far from innocent. Dear lives are lost. And good doesn't win.
Tiger Lily is by far the most moving, unforgettable, heart-wrenching, and beautiful story that I have ever read. I will never again think about the characters of the original Peter Pan the same way again because of the impact this book had on me. I don't really think this will be much of a review, more likely just me trying to get across to you just how eloquently written and seeping with emotion Tiger Lily is.
Like no other retelling I've ever read, completely unique, Tiger Lily is told from Tinker Bell's perspective. The book has a very dark and pensive tone, but remains extremely raw and real for a fairy tale. Still completely magical, the story shows the human sides of the beloved characters like Peter Pan, Captain Hook, Tinker Bell, the Lost Boys, and of course Tiger Lily.
Writing this review now, and having just finished the book this morning and the emotions I have and feelings toward this book are fresh. Basically throughout the entire book I felt like my heart was in my throat. This book will do that to you. It'll make you feel emotions you didn't think possible; it will make you cry; it will tear you apart.
But it's worth it. I'm not one to re-read a book but I have a feeling Tiger Lily will be one that I'll revisit many times in my life.
Tiger Lily is one I'll recommend without fail to anyone looking for an enchanting and beautiful story that will bring them back to their childhood, and change them forever.
Sometimes I think that maybe we are just stories. Like we may as well just be words on a page, because we're only what we've done and what we are going to do.