Hi everyone! Before I get into the reviews and discussion I just wanted to post a warning to those of you wary about spoilers: I have kept both REVIEWS completely SPOILER-FREE, so that those of you who have yet to read the books can still read them. I have created a SEPARATE post that you can read HERE for the End of Series Discussion so you can comment freely on it and others can just comment on the review and not worry about being spoiled!
Siege and Storm by Leigh Bardugo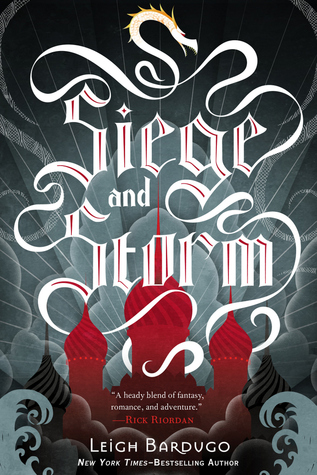 Publisher: Henry Holt and Co. (BYR)
Release Date: June 4, 2013
Pages: 432
Format: Hardcover
Source: Bought
Series: The Grisha, #2
Genre(s): Fantasy
Synopsis from Goodreads:
Darkness never dies.

Hunted across the True Sea, haunted by the lives she took on the Fold, Alina must try to make a life with Mal in an unfamiliar land. She finds starting new is not easy while keeping her identity as the Sun Summoner a secret. She can't outrun her past or her destiny for long.

The Darkling has emerged from the Shadow Fold with a terrifying new power and a dangerous plan that will test the very boundaries of the natural world. With the help of a notorious privateer, Alina returns to the country she abandoned, determined to fight the forces gathering against Ravka. But as her power grows, Alina slips deeper into the Darkling's game of forbidden magic, and farther away from Mal. Somehow, she will have to choose between her country, her power, and the love she always thought would guide her–or risk losing everything to the oncoming storm.
After reading and loving book one, Shadow and Bone, I had extremely high expectations for Siege and Storm. I am very happy to say that my expectations were met and it was just as wonderful as I had hoped!
Having not a bit of the second-in-a-series syndrome, Siege and Storm was beautifully written, filled with the same rich Russian fantasy that I adored in the first book. The story was filled with twists and surprises, leaving me thankful that I waited to read this one while I could read Ruin and Rising, book 3, as soon as I finished.
There were some new characters introduced that I absolutely loved. Most important: Sturmhond. Oh my goodness did I love him! Filled with clever, sassy and somewhat sarcastic remarks, he was a great foil to Mal, who I also adore. I had heard that Alina could find a possible love interest in Sturmhond and what I heard was correct. But, I'm still torn on my feelings. I'm pretty sure I remain loyal to Mal.
The Darkling, although not physically present throughout the bulk of the book, still created a looming presence that was very eerie and creepy, especially as the reader sees the story from Alina's point of view. Some people find the Darkling sexy, but I just think of him as a really mentally messed up guy who needs to look for an obsession in someone closer to his age. Oh, and stop trying to destroy everything good in the world. But that's just me.
All in all, if you've read Shadow and Bone but aren't sure if you want to continue on with the series or not (If that's you: what's wrong with you?!), I'd definitely recommend you read Siege and Storm. Although fantasy is one of my favorite genres, I have yet to find a series that is addictive. But Leigh Bardugo with her amazing Russian fantasy has got me hooked and begging for more!
---
Ruin and Rising by Leigh Bardugo
Publisher: Henry Holt and Co. (BYR)
Release Date: June 17, 2014
Pages: 454
Format: Hardcover (Exclusive Collector's Edition)
Source: Bought
Series: The Grisha, #3
Genre(s): Fantasy
Synopsis from Goodreads:
The capital has fallen. The Darkling rules Ravka from his shadow throne.

Now the nation's fate rests with a broken Sun Summoner, a disgraced tracker, and the shattered remnants of a once-great magical army.

Deep in an ancient network of tunnels and caverns, a weakened Alina must submit to the dubious protection of the Apparat and the zealots who worship her as a Saint. Yet her plans lie elsewhere, with the hunt for the elusive firebird and the hope that an outlaw prince still survives.

Alina will have to forge new alliances and put aside old rivalries as she and Mal race to find the last of Morozova's amplifiers. But as she begins to unravel the Darkling's secrets, she reveals a past that will forever alter her understanding of the bond they share and the power she wields. The firebird is the one thing that stands between Ravka and destruction—and claiming it could cost Alina the very future she's fighting for.
Ruin and Rising is one of the best conclusions to a fantasy series that I have EVER read. My expectations were surpassed when it came to this book.
There was not a moment when I wasn't completely engaged in the story, immersed in the world of the Grisha. I found myself marking quote after quote, and I will never forget this amazing story.
I don't even know where to begin when talking about this book because I loved every aspect of it. The story was fast-paced, and just got better and better with each page. There was exciting action that will keep you on the edge of your seat. A heart-wrenching romance, meshed with mood-lightening humor, all set in the amazing world that Leigh Bardugo has created.
Overall, Ruin and Rising was everything I could have asked for in a conclusion to my favorite young adult fantasy series!
Have you completed the trilogy, and what are your thoughts? Is this trilogy on your TBR? Let's chat!
Please do keep in mind that not everyone reading this post has completed the trilogy, or even started it yet. I ask that you do not post spoilers for the book series on this post. BUT, if you do wish to talk spoiler-y with me you can read my DISCUSSION here!