Fairly recently I realized that I haven't been reading as many self-published or indie published books anymore. Before I started this blogging venture I read tons of self-pubbed and indie pubbed books. Now, not so much. I want to get back into it, but first, I wanted to share with you some of my favorites from my pre-blogging days. I hope you check out some of these books and spread the love to these authors! ❤
All covers link to the book's Goodreads page and all authors names link to their websites. I've also liked where you can buy them below each synopsis!
To the authors of these wonderful books if you happen to be reading this: Thank you so much for writing these books. I have read and loved every single one of these listed below. If you are interested in collaborating for a guest post, or if you had something else in mind I would absolutely be honored to do so! Feel free to drop me an email or contact me via the form on my blog here! 🙂
---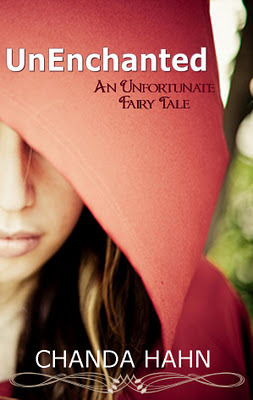 UnEnchanted by Chanda Hahn
Publisher: Chanda Hahn
Release Date: 2011
Synopsis from Goodreads:
Mina Grime is unlucky, unpopular and uncoordinated; that is until she saves her crush's life on a field trip, changing her High School status from loser to hero overnight.

But with her new found fame brings misfortune in the form of an old family curse come to light. For Mina is a descendant from the Brothers Grimm and has inherited all of their unfinished fairy tale business which includes trying to outwit a powerful Story from making her its' next fairy-tale victim.

To break the fairy tale curse on her family and make these deadly occurrences stop, Mina must finish the tales until the very Grimm end.
DOWNLOAD (FREE): NOOK | AMAZON
---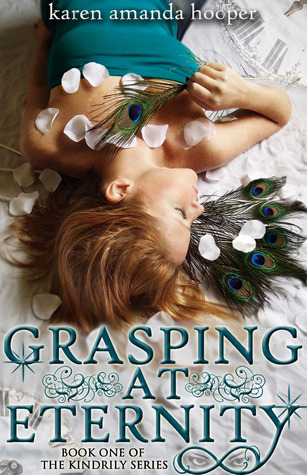 Grasping at Eternity by Karen Amanda Hooper
Publisher: Starry Sky Publishing
Release Date: May 25, 2012
Synopsis from Goodreads:
Leave it to Maryah Woodsen to break the one rule that will screw up eternity: Never erase your memories.

Before entering this life, Maryah did the unthinkable—she erased. Now, at seventeen years old, she's clueless that her new adoptive family has known her for centuries, that they are perpetually reincarnated souls, and that they have supernatural abilities. Oh, and she's supposed to love (not despise) Nathan, the green-eyed daredevil who saved her life.

Nathan is convinced his family's plan to spark Maryah's memory is hopeless, but his love for her is undying. After spending (and remembering) so many lifetimes together, being around an empty version of his soulmate is heart shattering. He hates acting like a stalker, but has no choice because the evil outcast who murdered Maryah in their last lifetime is still after her.

While Maryah's hunter inches closer, she and Nathan make assumptions and hide secrets that rip them further apart. Maryah has to believe in the magic within her, Nathan must have faith in the power of their love, and both need to grasp onto the truth before they lose each other forever—and discover just how lonely eternity can be.
---
Untraceable by S.R. Johannes
Publisher: Coleman & Stott
Release Date: November 9, 2011
Synopsis from Goodreads:
16-year-old Grace has lived in the Smokies all her life, patrolling with her forest ranger father who taught her about wildlife, tracking, and wilderness survival.

When her dad goes missing on a routine patrol, Grace refuses to believe he's dead and fights the town authorities, tribal officials, and nature to find him.

One day, while out tracking clues, Grace is rescued from danger by Mo, a hot guy with an intoxicating accent and a secret. As her feelings between him and her ex-boyfriend get muddled, Grace travels deep into the wilderness to escape and find her father.

Along the way, Grace learns terrible secrets that sever relationships and lives. Soon she's enmeshed in a web of conspiracy, deception, and murder. And it's going to take a lot more than a compass and a motorcycle (named Lucifer) for this kick-butting heroine to save everything she loves.
---
Arena One  by Morgan Rice
Publisher: Morgan Rice
Release Date: February 2, 2012
Synopsis from Goodreads:
After her sister is captured by slaverunners, Brooke teams up on a rescue mission with with another survivor, Ben, whose brother was also taken. What follows is a post-apocalyptic, action-packed thriller where they will have to make some of the hardest choices and sacrifices of their lives.
READ (FREE): GOODREADS
---
Larkstorm by Dawn Rae Miller
Publisher: FinnStar Publishing
Release Date: December 5, 2011
Synopsis from Goodreads:
In the years following the destructive Long Winter, when half the world's population perished, the State remains locked in battle against the Sensitives: humans born with extra abilities. As one of the last descendants of the State's Founders, seventeen-year-old Lark Greene knows her place: study hard and be a model citizen so she can follow in her family's footsteps. Her life's been set since birth, and she's looking forward to graduating and settling down with Beck, the boy she's loved longer than she can remember. However, after Beck is accused of being Sensitive and organizing an attack against Lark, he disappears. Heartbroken and convinced the State made a mistake, Lark sets out to find him and clear his name. But what she discovers is more dangerous and frightening than Sensitives: She must kill the boy she loves, unless he kills her first.
---
Oppression by Jessica Therrien
Publisher: ZOVA Books
Release Date: February 28, 2012
Synopsis from Goodreads:
Elyse knows what it means to keep a secret. She's been keeping secrets her whole life. Two, actually. First, that she ages five times slower than average people, so that while she looks eighteen years old, she's well over eighty. Second, that her blood has a mysterious power to heal. For Elyse, these things don't make her special. They make life dangerous. After the death of her parents, she's been careful to keep her secret as closely guarded as possible. Now, only one other person in the world knows about her age and ability. Or so she thinks. Elyse is not the only one keeping secrets. There are others like her all over the world, descendants of the very people the Greeks considered gods. She is one of them, and they have been waiting for her for a long time. Some are waiting for her to put an end to centuries of traditions that have oppressed their people under the guise of safeguarding them. Others are determined to keep her from doing just that. But for Elyse, the game is just beginning-and she's not entirely willing to play by their rules.
---
Whispers in Autumn by Trisha Leigh
Publisher: CreateSpace
Release Date: July 21, 2012
Synopsis from Goodreads:
In 2015, a race of alien Others conquered Earth. They enslaved humanity not by force, but through an aggressive mind control that turned people into contented, unquestioning robots.

Except sixteen-year-old Althea isn't content at all, and she doesn't need the mysterious note inside her locket to tell her she's Something Else. It also warns her to trust no one, so she hides the pieces that make her different, even though it means being alone.

Then she meets Lucas, everything changes.

Althea and Lucas are immune to the alien mind control, and together they search for the reason why. What they uncover is a stunning truth the Others never anticipated, one with the potential to free the brainwashed human race.

It's not who they are that makes them special, but what.

And what they are is a threat. One the Others are determined to eliminate for good.
---
The Bane by Keary Taylor
Publisher: Keary Taylor Books
Release Date: March 1, 2011 (as Eden)
Synopsis from Goodreads:
Before the Evolution there was TorBane: technology that infused human DNA with cybernetic matter. It had the ability to grow new organs and limbs, to heal the world. Until it evolved out of control and spread like the common cold. The machine took over, the soul vanished, and the Bane were born. The Bane won't stop until every last person has been infected. With less than two percent of the human population left, mankind is on the brink of extinction.

Eve knows the stories of the Evolution, the time before she wandered into the colony of Eden, unable to recall anything but her name. But she doesn't need memories to know this world is her reality. This is a world that is quickly losing its humanity, one Bane at a time.

Fighting to keep one of the last remaining human colonies alive, Eve finds herself torn between her dedication to the colony, and the discovery of love. There is Avian and West – one a soldier, one a keeper of secrets. And in the end, Eve will make a choice that will change the future of mankind.

The Bane is The Terminator meets The Walking Dead with a heart-twisting romance.

Previously published as Eden, due to reader demand it has been revamped and rereleased as The Bane: book one in The Eden Trilogy.
---
Have you read any of the books I've listed above? Are there any self-pubbed or indie-pubbed books you loved that aren't listed? I'd love to hear from you!