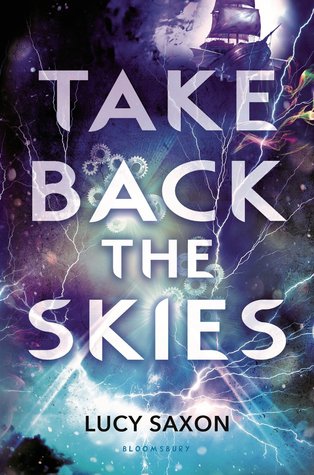 Publisher: Bloomsbury USA Childrens
Release Date: June 3, 2014
Pages: 384
Format: ARC
Source: Publisher
Series: Take Back the Skies, #1
Genre(s): Fantasy, Steampunk
Synopsis from Goodreads:
Catherine Hunter is the daughter of a senior government official on the island of Anglya. She's one of the privileged – she has luxurious clothes, plenty to eat, and is protected from the Collections which have ravaged families throughout the land. But Catherine longs to escape the confines of her life, before her dad can marry her off to a government brat and trap her forever.

So Catherine becomes Cat, pretends to be a kid escaping the Collections, and stows away on the skyship Stormdancer. As they leave Anglya behind and brave the storms that fill the skies around the islands of Tellus, Cat's world becomes more turbulent than she could ever have imagined, and dangerous secrets unravel her old life once and for all . . .
Special thanks to Bloomsbury USA Childrens for providing me an advance copy of this book for review!
Take Back the Skies was a fun book, but turned out to be something completely different than what I was expecting. What took me by surprise was the main character's age. She was fourteen-turning-fifteen, and while written well, a YA book with a younger protagonist can be enjoyable to read, Cat's voice felt even younger than her actually age. Lucy Saxon's youth and inexperience with writing was obvious to me while reading. Cat seemed immature, naïve, and impulsive.
That being said, the story was interesting and entertaining. I immediately thought of Scott Westerfeld's Leviathan Trilogy after I began reading this book. Same ideas about a girl escaping disguised as a boy, steampunk-sky-themes, etc., going on. The book dragged at parts and was really predictable, but the writing progressively got better as the story continued.
One real problem I had with Take Back the Skies was the romance. It happened really fast and was not fully insta-love, but came very close to that line. Also the love interest was two years older than Cat. I'm not sure how to explain it but it seemed like Cat idolized Fox. He seemed much more mature than her, and therefore their romance just felt weird. I've seen others mention this in their reviews also – Fox was blatantly sexist. He was shocked by the fact that Cat could do things just because she was a girl, a wealthy one at that.
The one thing I did really like about Take Back the Skies was the ending. Lucy Saxon managed to shock me with this one!
Overall, Take Back the Skies is the perfect book for younger YA readers. If you're older, I'd stay away so that you're not disappointed. That being said, I did enjoy this one, but it was just a little too young for me.
---
Recommended for fans of: